Artwork on your walls can set the tone for the whole room—dark and moody, light and airy—and it can accentuate your style—modern, traditional, old world, farmhouse. You get the picture, ha!
But artwork can be expensive, and budget friendly artwork often looks, well, like you were on a budget. And you might see your exact same print in the exact same frame when you walk into your friends' homes. 
There are endless sources for artwork that allow you to put more unique pieces on your walls. They are budget friendly—some are free—and you may already have them in your home! And there are creative ways to elevate your existing frame or source new frames that look custom without the custom price tag.
I'm old school and still hang a paper calendar in my kitchen. If you do, too, you probably like the artwork on your calendar's pages. If you've gone completely digital and only track the date and your schedule on a screen, you're still in luck! You can go to one of those screens, find a calendar with beautiful artwork, and buy an actual paper calendar.
I usually buy my calendars from calendars.com. I love William Morris wallpaper, but it's expensive, so I buy a William Morris calendar every year, and I have framed several of the pages. Pomegranate is another great source for calendars that feature works by different artists. You can search by artist or theme. I usually search by theme. Countryside landscapes and floral are what I'm looking for, but you can choose portraits, buildings, modern art, seascapes—just about any genre you can think of.
I framed the Morris wallpaper calendar pages, below, in frames that I had. I removed the existing artwork and replaced it with the calendar pages. These frames had built-in mats that worked with my decor, so I didn't change them.
Flea markets and yard sales are a good source for out-of-date calendars. I've seen them in the sections that typically house books or wall art. If you see one and don't like the cover art, look through it. There might be a month that you love. They're usually very inexpensive, so even if you're only going to use one page, it's a great purchase. My good friend, Shannon, knows that I love botanical art. She found a vintage botanical art calendar that was out of date and grabbed it for me. I framed four of the pages and use them all over my house. Two of them are shown, below. They are perfect with this antique dresser in my daughter's room.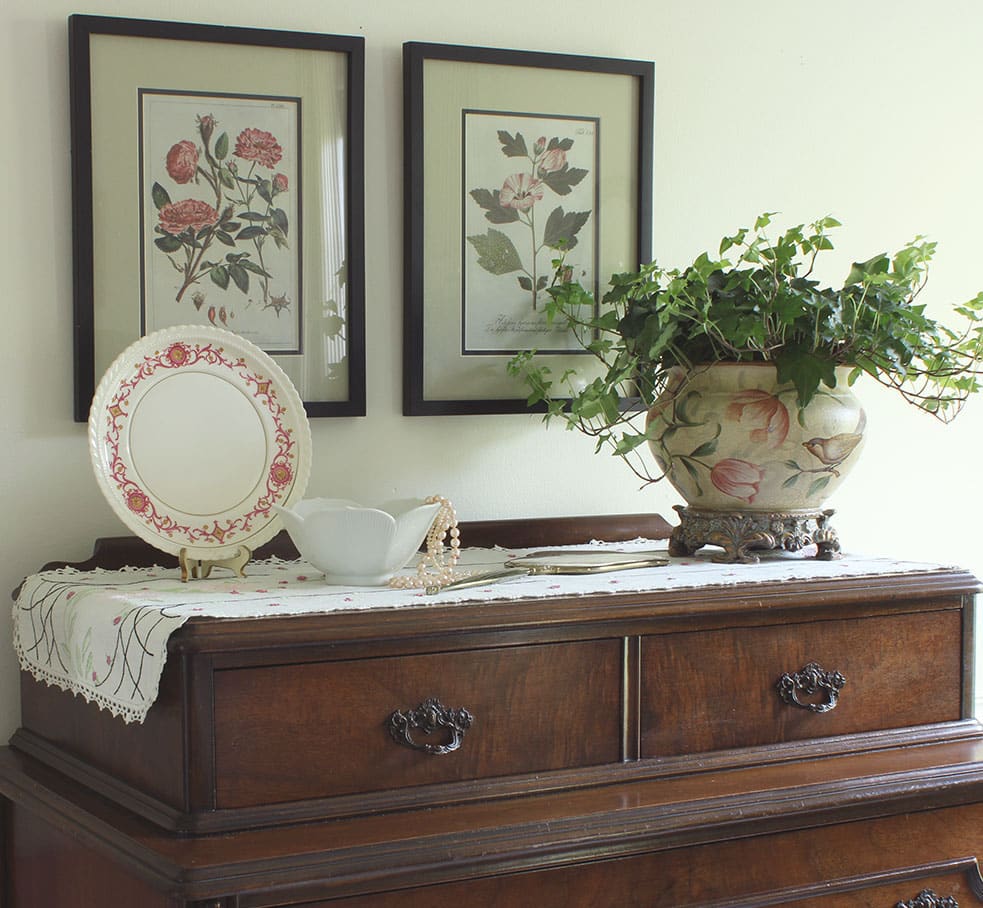 Sometimes calendar art is a size that will fit in a standard frame, but not always. While you can certainly order frames and mats online, you will get the best result if you take your artwork to a framing shop and try out various options. In my town, Michael's, Hobby Lobby and one art shop are the only options. If you live in a bigger city, you probably have access to more. For the botanical artwork, above, I bought inexpensive black frames in a standard size at Hobby Lobby. They were on sale for $4.99 each. I took my calendar pages and the frames to the framing department and had custom mats cut to fit the pages for $16.00 each. Mats can be expensive, but If you choose a mat that is in stock, it will cost less than options that have to be ordered. If I'm looking for a particular color, I always ask to see the in-stock options in that color. I had these double matted for a more custom look. The remaining two botanical calendar prints are below. I've used them in groupings of four, three and two throughout my house.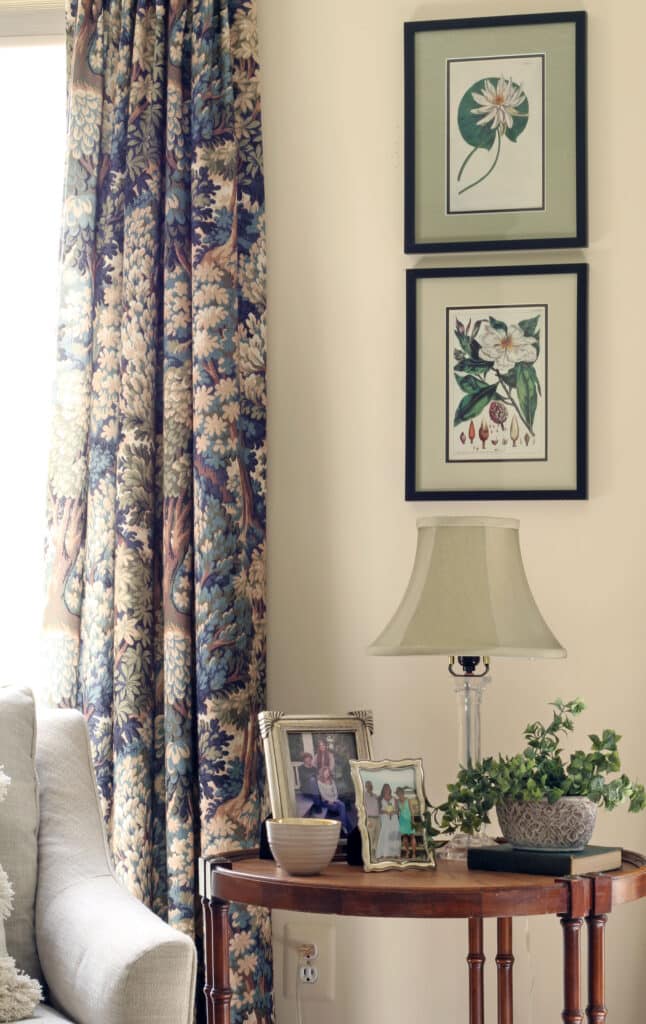 Notecard and greeting card art
Small framed art cozies up a kitchen backsplash or a shelf on a bookcase or a hutch. It also works well above doorways. You may be drawn to a pack of notecards because they display beautiful landscapes or still lifes. They may feature an artist whose work you love. You can frame them as they are or have them enlarged. The framed landscape, below, was from a pack of notecards by a local artist. I had the notecard enlarged at CVS and framed it. If you try to go too large, your image will become pixelated, but enlarging to a 5 x 7 or 8 x 10 should work. Note: If you do this, make sure that you are only using the enlargements for use in your home. 
Since the artwork is a small size, picture frames are perfect for turning them into wall or shelf art. The frame on the landscape, above, was brown with a floral print. I applied Rub 'n Buff in European Gold to give it a more upscale look. 
Sometimes the frame can become part of the art. I framed the small notecard, below, to hang in my office at work. Since it was so small, I chose an outer mat in a color that complemented both my space and the colors in the card. The inner mat relates to the frame and makes the card pop. Although the actual art is very small, the framed piece has a presence due to the matting.
Inexpensive art, reframed
You can sometimes find artwork that is more unique at stores like Marshall's/Home Goods/TJ Max and Tuesday Morning. Even if it isn't as unique as you would like, you can reframe or remat it, and make it uniquely yours. 
I found the large botanical prints, below, at Tuesday Morning. They were framed in very cheap (as in they fell apart when I tried to hang them) frames with stark white, flimsy mats. I'm a sucker for botanical prints, so I bought them for $30 for the pair. I had new mats made for them at Michaels. I chose a mat with a black inside edge to make them look a bit more custom. I also found the frames at Michaels during a buy-one-get-one-free sale. I got them both for $50. There were less expensive options that would have been fine, but I really liked the detail on these frames. 
These prints were a bit more expensive at about $100 for the pair, but they're big—16″ x 20″—and they fill the space above my bed nicely. 
Downloadable, printable art
There are lots of sources for art that can be downloaded and printed. I used two sources for my vintage gallery wall. The green vase still life on the left and the two floral prints (this was one download that I cropped and framed into two prints) are both from Vintage Supply. The woman at the window and the portrait of the woman from the back are from Collection Prints. I printed these on my photo printer since I didn't need them to be larger than 8″ x 10″. 
There are several options if you want to print your downloads in a larger size. Staples will print them and mail the prints to you. Email your document to [email protected]. You will receive a confirmation email and instructions on how to proceed. 
To frame my gallery wall downloads, I used vintage frames and frames that I upcycled with paint.  For the prints, below, which I downloaded from Collection Prints, I used frames that originally housed other prints. 
The key to making your artwork pop is finding the right mat or frame in the right size. Many frames come with mats, but swapping them out for a mat in a color that complements your art or frames it perfectly will give you a custom look.
Conversely, cropping artwork to fit an existing frame or mat will work as well.
Painting existing or even inexpensively purchased frames or adding a metallic finish with Rub 'n Buff can allow you to customize them to your decor style.
I'll reiterate that if you want a good custom look, it's best to take your artwork to a store and try out different mats. You could order your frames in a size and color that you like. I've rounded up a few options, below, in different styles. Click on the numbers in the list below the graphic for links.