Create a vintage-style dessert bar inspired by the luxurious Orient Express of the 1930s.
Are you part of a neighborhood or friends dinner club? My neighborhood has had one for about 30 years. My husband and I joined when we moved to our house 22 years ago. We meet monthly, and neighbors all take turns hosting. It sounded a little daunting to me until I learned the requirements for the hosts: provide appetizers and before-dinner drinks, make a reservation at a restaurant within 30 miles, have the group back to your house for dessert after dinner.
I enjoy entertaining, but dinner for a big crowd makes me nervous. Appetizers and dessert I can handle!! I usually prepare several desserts and create a dessert bar.
Two events in my life collided this month: I joined three talented bloggers in a monthly virtual book club, and it's my turn to host the neighborhood dinner club. That probably doesn't make a lot of sense, but it really is serendipitous!! Let me explain.
The idea behind the book club is to read a book each month and write a home decor and food post based on inspiration from the book. On the fourth Thursday of each month, we will all post something home-decor related that was inspired by our book for the month. On the following Saturday, we will post a recipe that ties into the theme of the book.
As I have to prepare a variety of desserts for my dinner club anyway, I decided to create a dessert bar based on what might have appeared in the dining car in this month's book selection: Murder on the Orient Express.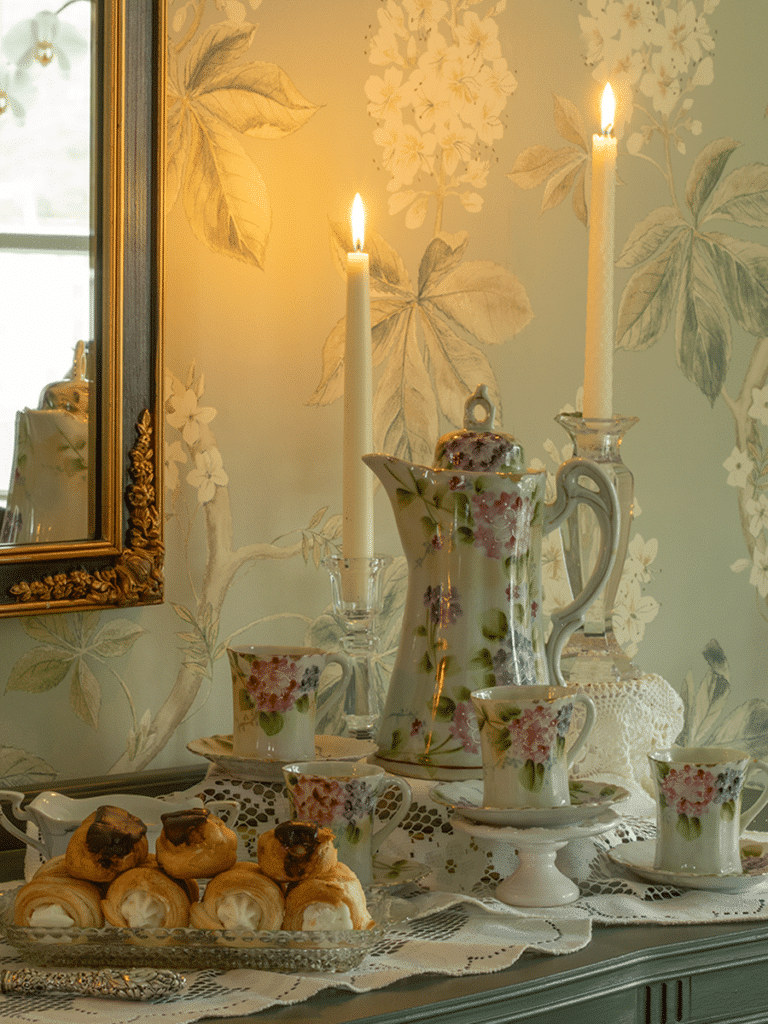 Murder on the Orient Express
Murder on the Orient Express, by Agatha Christie, is a whodunit set in the early 1930s on the luxury train, The Orient Express. Inspector Hercule Poirot boards the train in Instanbul when he has been called back to London. The reader is introduced to a variety of passengers who interact with Poirot. Ever the dectective, Poirot begins to observe some strange behaviors among the passengers. When the train is stopped by snow drifts while passing through Croatia, one of the passengers is murdered. As he is the only detective on board, Poirot agrees to investigate the murder.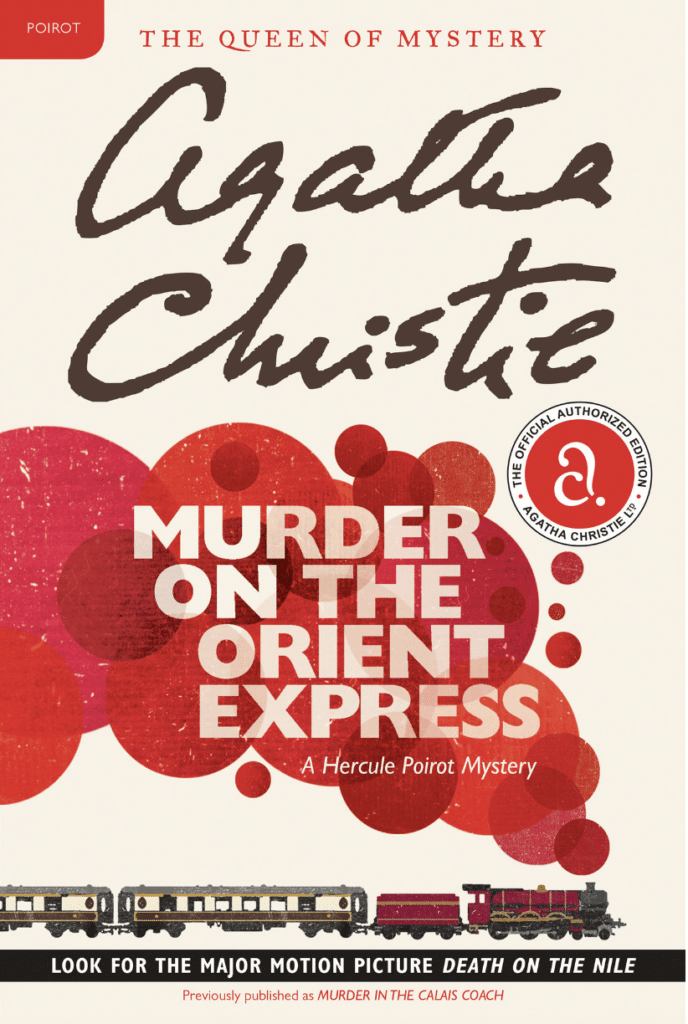 The Orient Express was a long-distance passenger train that first offered service in 1883. It had a variety of lines. The book takes place on the Simplon line with service from Istanbul to Paris. During the 1930s, the line acquired its reputation for comfort and luxury, and included restaurant cars known for the quality of their cuisine. The train carried royalty, diplomats, business people and the bourgeoisie in general. 
                                    Photo: orient-express.com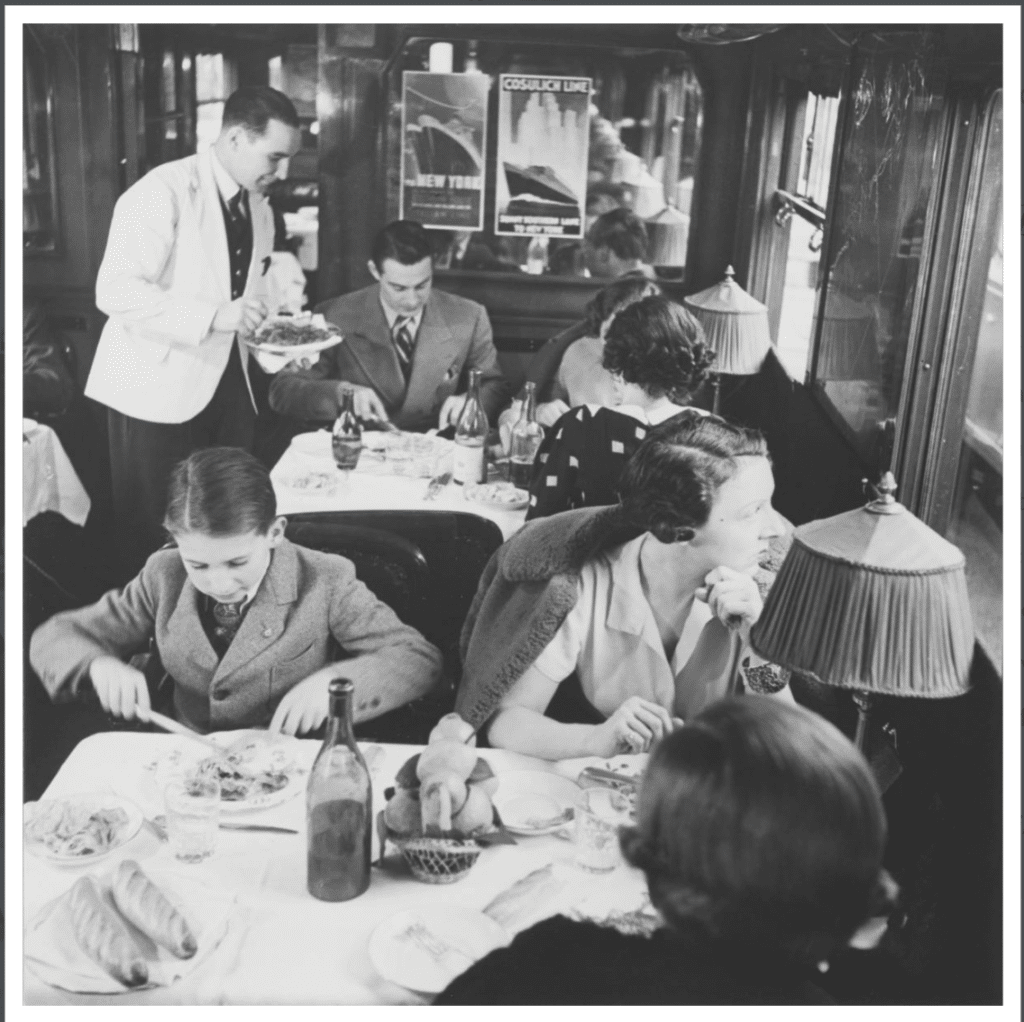 Since Christie does not mention any of the food served during the fateful trip featured in her book, I thought it would be fun to include desserts from the 1930s when the book was published. My research turned up lots of Depression-era desserts, since the Depression lasted from 1929 to 1939. Desserts from that time were simple and often made creatively without eggs and butter. I came across such delicacies as vinegar pie, potato doughnuts, flourless cookies and lots of tapiocas and sponge cakes. 
These were not the desserts that I wanted to serve to my dinner club. As tickets for the Orient Express carried a pretty hefty price, and the passengers were wealthy, I figured they were probably not as limited in their dessert choices. My dessert bar features desserts that have influences from the regions along the Orient Express line. I've included eclairs and a Chambord cake, both French desserts; a carrot cake roll, influenced by rolls that are popular in Croatia; a lemon pound cake, as pound cake originated in Europe; and a chocolate coffee cheesecake influenced by coffee bars that were popular in Istanbul.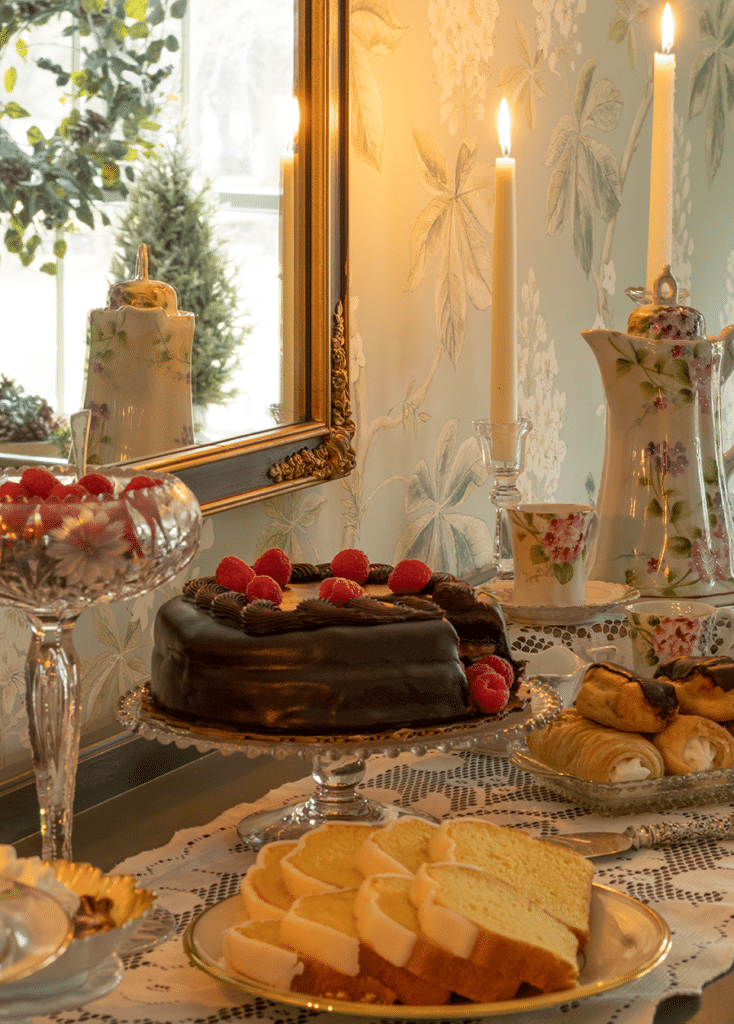 I did come across the first menu on the Orient Express, which listed chocolate pudding and a buffet of desserts. This prompted me to include chocolate mousse that looks like pudding but is a little bit fancier.
Styling a vintage-inspired dessert bar
My dining room has a 1930s vibe with its vintage sidebar and mirror backed by floral wallpaper. These elements help, but are are not necessary to create a vintage look. By layering on vintage pieces, any space can be transformed to evoke a setting from the past. I used a lace runner and vintage doilies, vintage serving pieces and candles to set the scene.
View the dessert bar as you would any vignette. Varying the heights of the various components of the dessert bar adds interest and makes it aesthetically pleasing. I placed books under my runner to create risers for different pieces. Cake stands in various heights also help to move the eye to various levels. Candles always add ambiance. The Orient Express of the 1930s was about glamour and romance. With a little creativity, you can transport your guests back in time and give them a luxury dining car experience!
Virtual Book Club Members
I hope you will see what my fellow Virtual Book Club members were inspired to create. Click on the links below the photos to visit their blogs.