This easy homemade beef stew is tasty and makes a great meal for a chilly evening.

Welcome to the Virtual Book Club—Culinary Version.
I join three bloggers during the fourth week of each month to share our interpretation of a different book.
On Thursday, we share a home-decor related post and follow
on Saturday with a culinary post, both inspired by the month's book.
Jane Austen's Emma
This month's book is Emma, by Jane Austen. On Thursday, I shared my interpretation of a bedroom from the Georgian-Regency Era of the early 1800s. You can read that post here. The main character in the book, Emma Woodhouse, is from a wealthy family living in the English countryside in the fictional village of Highbury. Her family and acquaintances would have had meals that reflected that status.
Food during the Regency Era
While Emma was wealthy, poverty was rampant during this time. Most people ate meat, soups and breads throughout the year. The wealthy had kitchen gardens that provided fresh produce, and the very rich grew fruits and vegetables in hot houses all year long. Root vegetables were stored in cellars.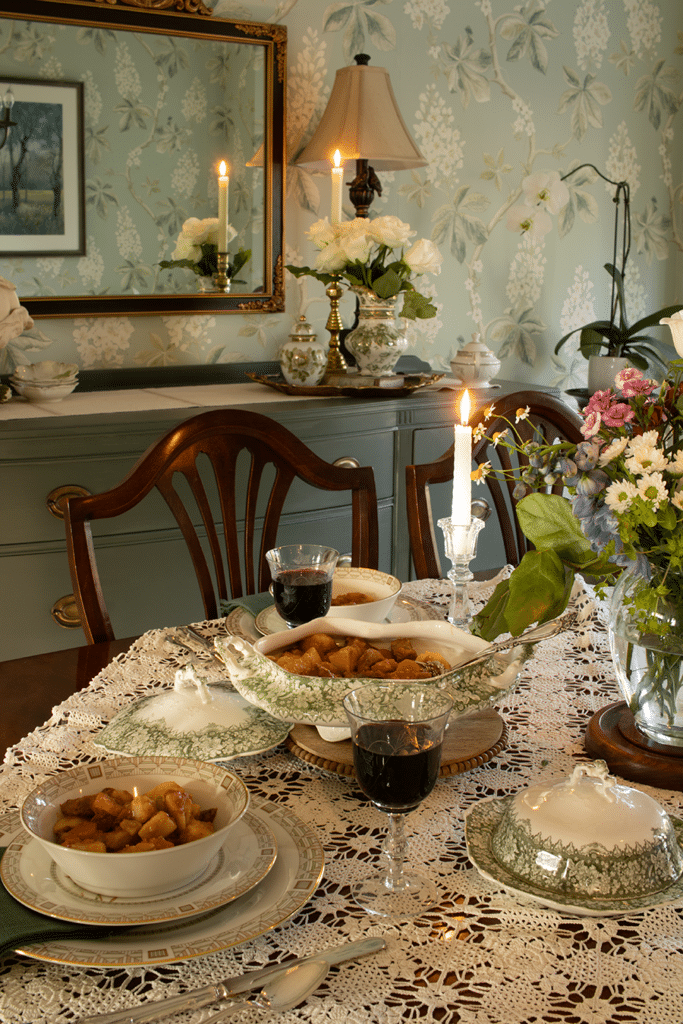 The setting for the meal
For most people, dining was a simple affair. Food was what could be hunted or grown. Unless their house was large enough to accommodate a dining room, most people ate in the kitchen. Emma's meals would have been shared in a formal dining room by candlelight. I imagine that the wealthy families would have had cutting gardens that provided fresh flowers on the tables and sideboards in the dining room.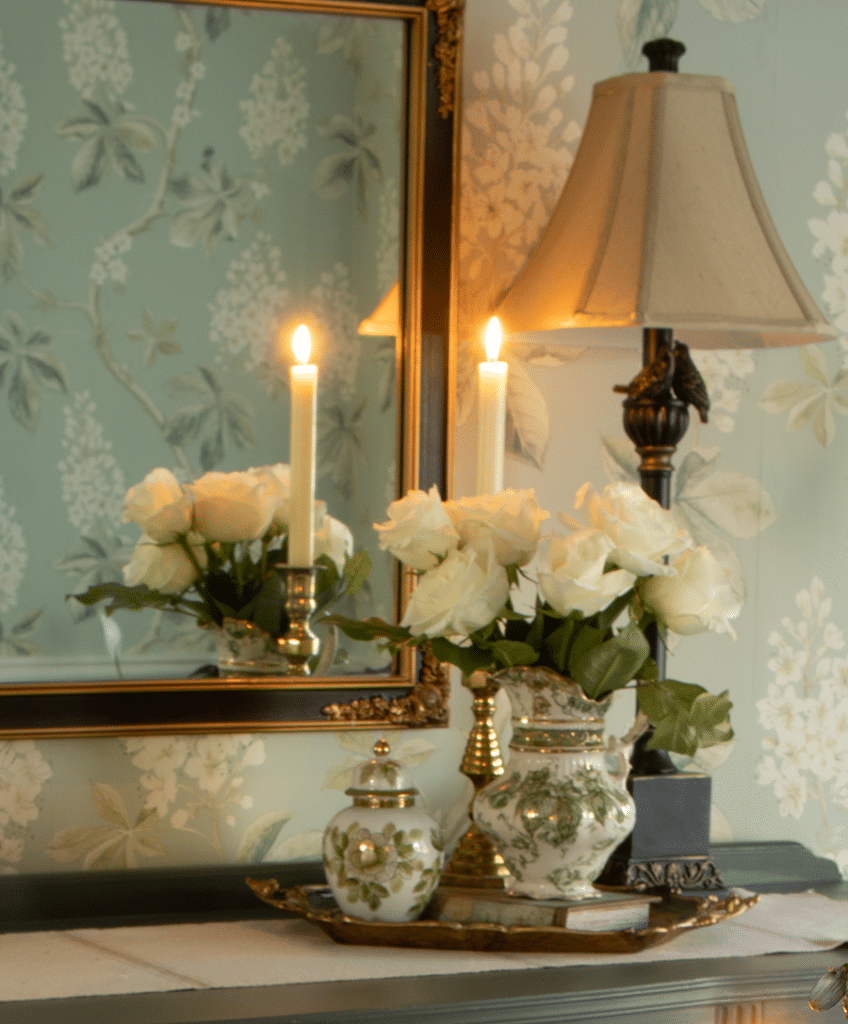 My interpretation of an Emma-era meal
I chose to make a homemade beef stew. My research showed that, while people of the time ate beef, it wasn't always of the best quality, because the animals had to be brought a long way to market. Venison and game that was procured from country estates was more fresh. I'm making the leap that, because Emma's family was wealthy, they had access to a cattle farm. The vegetables in the stew would have been grown in their kitchen garden or hot house.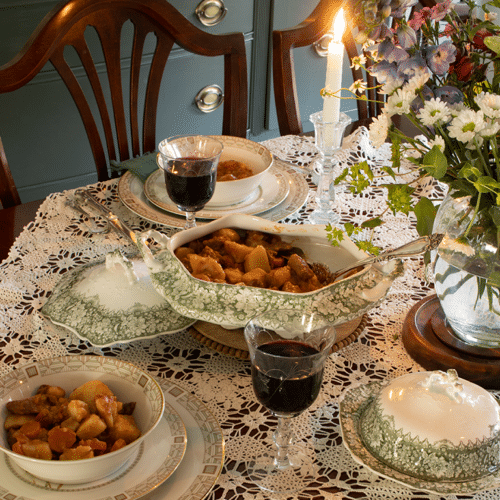 Easy Homemade Beef Stew
This hearty stew is tasty and makes a nice meal. It can be simmered in a dutch oven on the stove or in a crock pot or slow cooker.
Ingredients
1 1/2

lbs

beef cubes

1

C

flour

2

T

vegetable oil

1

10 1/2 ounce can

beef consommé soup

1

C

water

2

14 1/2 ounce cans

Italian style stewed tomatoes

2

bay leaves

4 to 5

peppercorns

3

carrots

chopped

2

stalks

celery

chopped

1

large

onion

chopped

5

large

russet potatoes

cubed
Instructions
Shake beef cubes in flour in a large plastic bag. Shake off excess flour and brown beef cubes in oil.

Add beef consommé, water and stewed tomatoes; stir and bring to a simmer.

Add bay leaves, peppercorns, carrots, celery and onion and simmer for 2 hours.

Add potatoes and simmer for 1 to 2 hours more.
The Virtual Book Club Bloggers
Please visit my three Virtual Book Club blogging friends to see what Emma-inspired culinary delights they have cooked up! Click on the links below the pictures to visit their blogs.