A roundup of fence styles and some tips from a pro to help you determine which fence meets your backyard needs
Fences serve a variety of purposes—they keep pets and kids in, offer privacy, provide safety, and sometimes they are purely aesthetic. The options for fences are numerous and they come at a wide range of price points. Installation can be a fairly easy DIY project or a complicated job for the pros. 
When we moved to our current house, we had one dog, Tucker, who routinely climbed the fence and escaped the yard at our previous home. He loved an adventure and was too wily to be caught. I became daily entertainment for the neighbors as I hunted him down and lured him home by tossing a trail of goldfish crackers from the giant box that I kept for Tucker emergencies. So, when we moved, we decided on an underground fence hoping that would keep him in—it worked. Sadly, Tucker is no longer with us, but we have two equally adventurous dogs, Olive and Steve. Both dogs adapted well to the underground fence, but Steve, who is older, recently started to wander through the perimeter of the fence. 
We decided it was time to add a physical fence to allow Steve the freedom that he loves to roam our half-acre yard while keeping him safe. The truth is, if we had done some research, we probably could have found a fence that was Tucker-proof when we moved here, but the underground fence seemed to be the quickest answer. 
If you're in the situation of needing a fence like we were, or if you just want one for a variety of reasons, there are some points to consider to ensure that you choose the perfect fence for your situation. I talked to Kelly Orman, co-owner of Frederick Fence Co. in Frederick, MD—the company that installed our fence. Kelly provided some excellent tips for choosing a fence. Note: this is not a sponsored post, but I have to say that they did a fabulous job! 
What is the purpose of your fence?
Before you can decide on a fence style, you should determine what purpose or purposes you want your fence to serve. Kelly told me that she always asks people, "What is your why?" Why do you need or want a fence? Maybe you need it to keep your pets in, but you also want privacy. If you have a pool, there are specific regulations for style and height. You might want a fence to delineate your property lines and look pretty. Kelly also mentioned something I hadn't considered because we don't have one—your HOA might require a fence.
What is the style of your house?
Our house is a colonial with a cottage vibe. I wanted something that would complement that style. A modern linear fence would feel out of place. Likewise, a cute, white picket fence would not blend with a contemporary home. Kelly said that your fence should be cohesive and match the aesthetic of your house. She added that, to achieve this, some customers choose a style for the front-facing portion of their house that complements the style, but put a less-expensive option in the back where it won't be seen. 
Our house is white with black shutters, and I thought a black fence would be nice. I found the picture, below, and fell in love with this style. There were two problems: unless we added wire, both of our dogs could probably squeeze through the openings in the bottom.  Additionally, our kids all bring their dogs with them when they visit, but their bigger dogs would easily jump over a fence at this height. So much for my dream fence. 
What material should you choose?
Kelly talked about three options: wood, vinyl and aluminum. She also mentioned chainlink but suggested that it is best for an industrial or commercial use.  The fence material you choose will determine how much maintenance your fence will require and the longevity of the fence. If you want a white wood picket fence, you'll have to paint or stain it every two to three years to keep it looking fresh. In between paint jobs, you may have to pressure wash it to remove dirt and mold. A white vinyl fence will not have to be painted, but it will show the dirt. Kelly says that vinyl can be cleaned with a pressure washer just like you would clean your house, and it should last forever!
Aesthetics will also play a role in your material of choice. A rustic wood fence might look out of place if your house is very formal. Kelly said that aluminum fences are popular for the areas around pools. They also work well in areas where a gorgeous view exists, but a fence is needed for safety purposes. Aluminum fences are usually black and have a wrought iron look. The eye tends to look through black, so they don't distract from the view, Kelly explained.
According to Kelly, wood fences are typically the most economical. She gave the disclaimer that current lumber costs have skewed this a bit. Lumber is more expensive than it has been in a long time, and there is a shortage of vinyl due to high demand. It's a good idea to ask your fence company about current prices and availability of materials. 
The style and purpose of your fence will also impact the cost. A three-board paddock fence (the style we chose) or a split rail fence will be less expensive because they use less material. Wood picket or privacy fences are more expensive due to the amount of wood needed. The same applies to vinyl and aluminum fences. 
Source: Frederick Fence Co.
Split-rail fence
• Rustic look
• Less expensive because it requires less material
• Wire can be added to keep animals in
• Meets pool code (with wire)
• Boards are treated all the way through
• Price has remained consistent in spite of rising lumber costs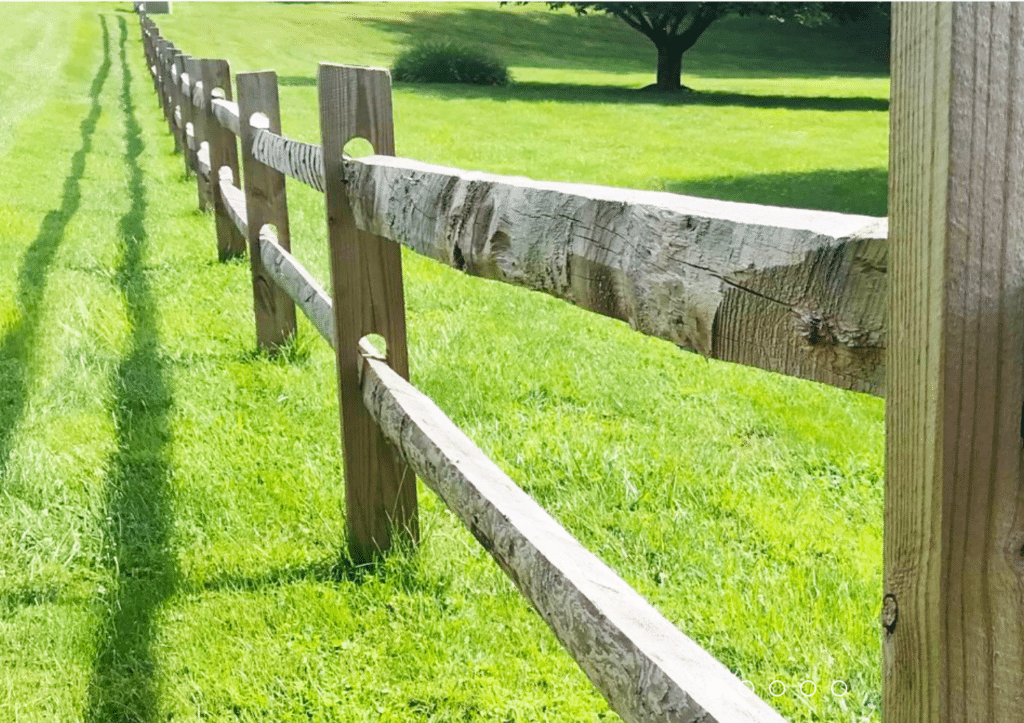 Source: Frederick Fence Co.
Three-board paddock fence
• Less expensive because it requires less material
• Wire can be added to keep animals in
• Meets pool code (with wire)
• Inexpensive to maintain—each board takes up a lot of space making it easy to replace a damaged portion
• Pressure treated lumber that will last
• Cedar gate to retain shape
Vinyl fence
• Approximately 15% more expensive than wood
• Little maintenance
• Can be easily cleaned
• Should last forever
• Often required by HOAs
• Available in a variety of colors* and styles
*Colors are currently limited due to supply shortages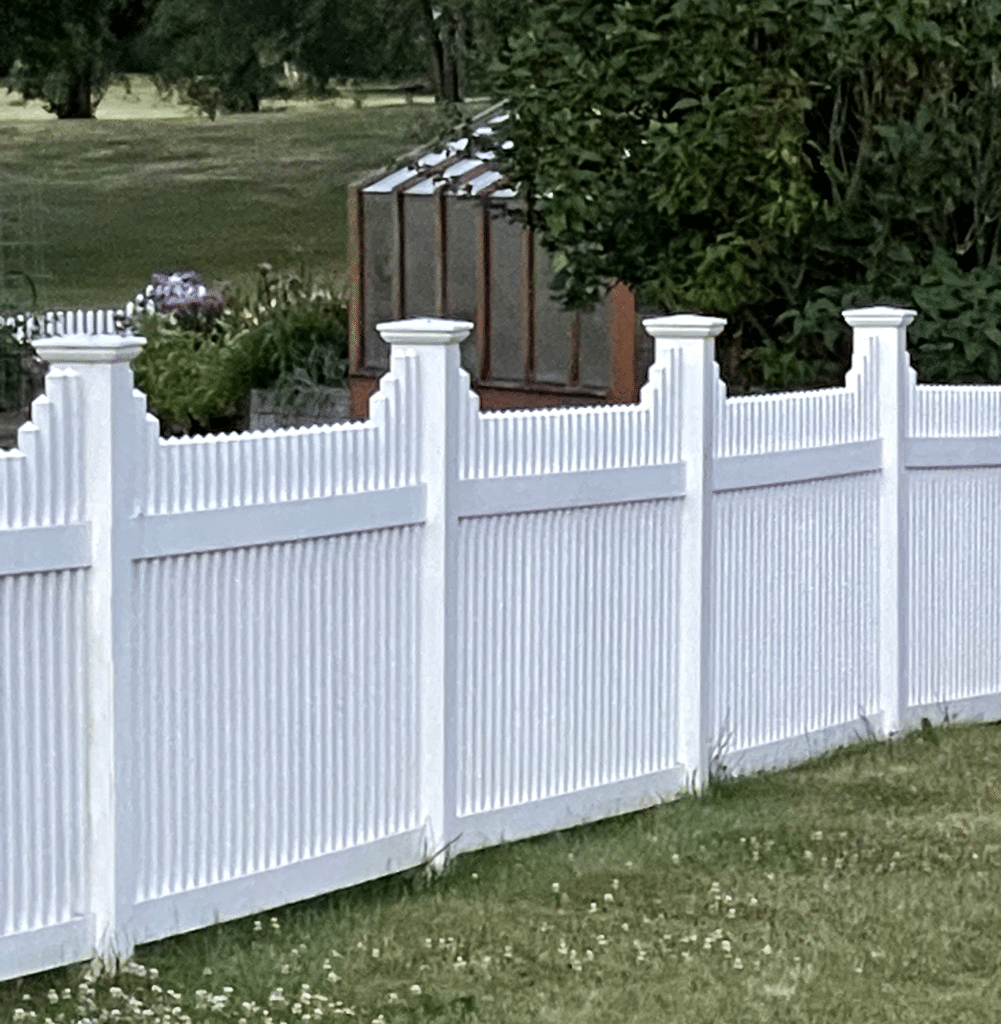 Aluminum fence
• Approximately 15% more expensive than wood
• Wrought iron look in black
• Doesn't detract from view (eyes tend to look through the black color)
• Low maintenance
• Available in a variety of styles
Kelly gave me a list of items to check off before you can install your fence. 
• Make sure it meets HOA requirements if you have them.
• Locate your property lines to maximize your space and not encroach on your neighbor's land.
• Call the appropriate companies to mark the locations of underground utilities.
• Check to see if you need a permit if you are installing the fence yourself.
Gates—how many and where to put them. Keep in mind that each gate adds to the cost of your fence. We put gates on either side of our house and into the neighbor's yard in the back. We wanted to be able to visit the neighbors without having to hop the fence or walk the whole way around the neighborhood. Also, I wanted an easy option to leave the yard in the back in case of an emergency. (I'm not sure what the emergency would be, but I'm a bit claustrophobic, and I like knowing I can leave through the back easily—it's weird, I know.)
Access to the backyard. We put a double gate on one side of our house to allow for a car to drive through. My husband likes to drive into the yard to deliver mulch to the various gardens. There might be other reasons, too. This gate was a bit of a challenge because it had to be located on a slope. It works and my husband is happy!
Your neighbors' existing fences. Our yard is on a cul-de-sac. It's a pie shape with the widest part in the back. It actually touches seven other yards if you count those on each side of us. Four of those yards already had fences and they were all different styles. We could have installed a fence, in the style of our choice, around the entire perimeter of our yard and abutting all of the other fences. In the end, we decided to go with the style of the existing neighbor's fence that shared the largest part of our yard and was most visible.
Kelly told me that some neighborhoods will not allow back-to-back fences, so it's good to check your covenants and restrictions before you install your fence if it will abut another fence. 
Style elements. Kelly said that arches, rings, finials, and other style elements can be designed into fences, but they will add to the cost. If you want something custom, search for pictures that you like on social media sites or drive around and check out some existing fences. She added that Frederick Fence Co. employs designers who can create something from your vision or duplicate almost anything shown in a photo that a customer brings to them. 
Finally: to DIY or not to DIY
We DIYed our split rail fence at our last house (the aforementioned climbable-by-Tucker fence). Our yard was much smaller than the yard at this house. Also, my husband was waiting for back surgery, and Steve (our dog)  was a scary flight risk at the time we needed this fence, so we were in a hurry to get it installed. Kelly said that customers can purchase all of the materials from her company for DIY projects. Frederick Fence will provide some support and direction over the phone, but you will be on your own for the hard labor! A DIY is always more budget friendly. If you have some DIY skills and you don't mind a couple days of hard work, it's worth considering doing it yourself!
While this wasn't the fence that I originally wanted, I love it now. It provides the safety barrier we needed, it blends with our neighbors' fences, it doesn't block our views, and the gates are really pretty! Olive approves!