Restore a rusted wrought iron table base to it's original beauty and add elegance with a new "marble" top
If the term faux painting conjures images of rooms full of sponged walls stenciled with cute floral or fruit-themed borders ala the 1980s and early 90s, put away those leg warmers and flat iron that over-permed hair, because faux techniques can be used to create beautiful current and even timeless looks while saving money.
We inherited a wrought iron accent table when my mother-in-law passed away in 2018. She loved the table, and from the time I met her the table held a place of honor on her side, covered porch. When she decided to move into a retirement community, the table was one of the special pieces that she wanted to take with her. Her new apartment had a porch, but it was not covered and the table was exposed to the elements for several years. 
The wrought iron base had been painted many times, and layers of paint and drips had built up. This build-up along with a lot of rust had to be removed before painting in order to get a nice finish. 
First, I scraped off as much paint and rust as I could with a wire brush. This removed the loose chunks, but clearly sanding was needed. 
We got these wire brush attachments for our power drill and went to work. My husband, Dave, and I took turns over several days using different-sized attachments to reach the various turns and crevasses on the legs. I don't have any good tips for this other than to keep at it. Slow, steady movement of the brush across the metal seemed to work best. Also, the bristles on the wire brushes are very sharp, and grabbing them once they are covered in rust may result in a trip to the doctor's office for a tetanus shot. (I'm good for 10 more years, now.)
There must be a way to have all of the paint removed professionally, but our method was never going to take it down to bare metal. We had to decide when it was good enough. For a piece that will be cared for, but used on our deck in the elements, "good enough" came after about a week of repeated sanding. 
Once it was ready for painting, we used Krylon primer and paint in one in Matte Black and sprayed four light coats, being careful not to be heavy handed in any one area. Several light coats is always better than one heavy coat that may lead to drips.
We let it cure for several days. To protect it from the elements, we sprayed it with Minwax Polycrylic Protective Finish, also in a matte finish. Again, we sprayed several light coats. 
I was very happy with how elegant the base looked once it was painted. Now it just needed a proper top.
When we brought the table home, the glass top was shattered. I wanted to replace it with something more interesting and durable than glass. The opening for the top is relatively small at 28 by 17 inches, and I thought I could strike a good deal for a piece of marble or quartz at the local stone yard. I was wrong. While a remnant may have been affordable, having it cut to size ran the price up, especially because it could only be one-half-inch thick. Most pieces are at least twice that thickness, and planing it down would have been expensive. I was given a ballpark of three to four hundred dollars for a remnant cut to size. I love the table, but I wasn't willing to pay that much. 
I loved the idea of a marble top and decided to try my hand at faux marbling. My original plan was to find a piece of plywood in the correct thickness. Dave remembered that we had a piece of plexiglass floating around in the basement, and lo and behold, it was exactly the thickness we needed (sometimes hoarding pays off).
Before you purchase new supplies, check your paint stash. I bought the white chalk paint and the glaze, but I used paint that I had on hand for the veining.
• Miss Lilian's Chock Paint in the color Eying the Past (this is a white with cooler undertones)
• Light Gray Paint (I mixed Sherwin Williams Tricorn Black with the white paint to create shades of gray)
• Medium Gray Paint  (Again, I mixed the SW Tricorn Black with the white but added more black for a more intense gray color)
• Sherwin Williams Dovetail (any taupe or greige paint will work)
• Miss Lillian's Antiquing Glaze in clear
• Step One
Paint the entire piece white using the sponge roller
• Step Two
Mix light gray paint of your choice with one part glaze and two parts water (I mixed SW Tricorn black with the white paint to create a very light gray)
• Step Three
Sponge paint the entire piece using the sea sponge. Work in a diagonal from top left to bottom right.
• Step Four
Use the microfiber cloth to dab the sponge painting and soften the appearance. It shouldn't look like a sponge-painted wall. Leave some darker areas that flow in the diagonal direction.
• Step Five
Using the light gray paint mixed with one part glaze and one part water, use the feather to create veins, again in the diagonal direction.
Dip one edge of the feather into the paint, dab off the excess paint. Move the feather in the diagonal direction while lifting it up and down. This is definitely the hardest part. It helps to look at samples of marble that you like and try to mimic the veining lines. When faux painting marble, I think less is more, so you don't need a lot of veining. Too much will look like you painted it.
After you pull your vein, use a blunt ended dry paint brush to soften the vein. Dab along the vein using a quick motion almost like stenciling.
• Step Six
Using the medium gray paint add some darker veins. There should be fewer of these. Add just enough to add some dimension.
• Step Seven
Using the taupe paint very sparingly, add highlights to some of the veins. I just used it in two spots along the edge of veins I had already created.
• Step Eight
Mix the white paint with one part glaze and three parts water. Using the sponge roller, cover the entire piece with the white mixture. I didn't like my piece until I had completed this step. It really softens and blends the whole look.
• Step Nine
Spray with the poly of your choice. I used a matte finish, but you could use a gloss if you prefer a shiny look.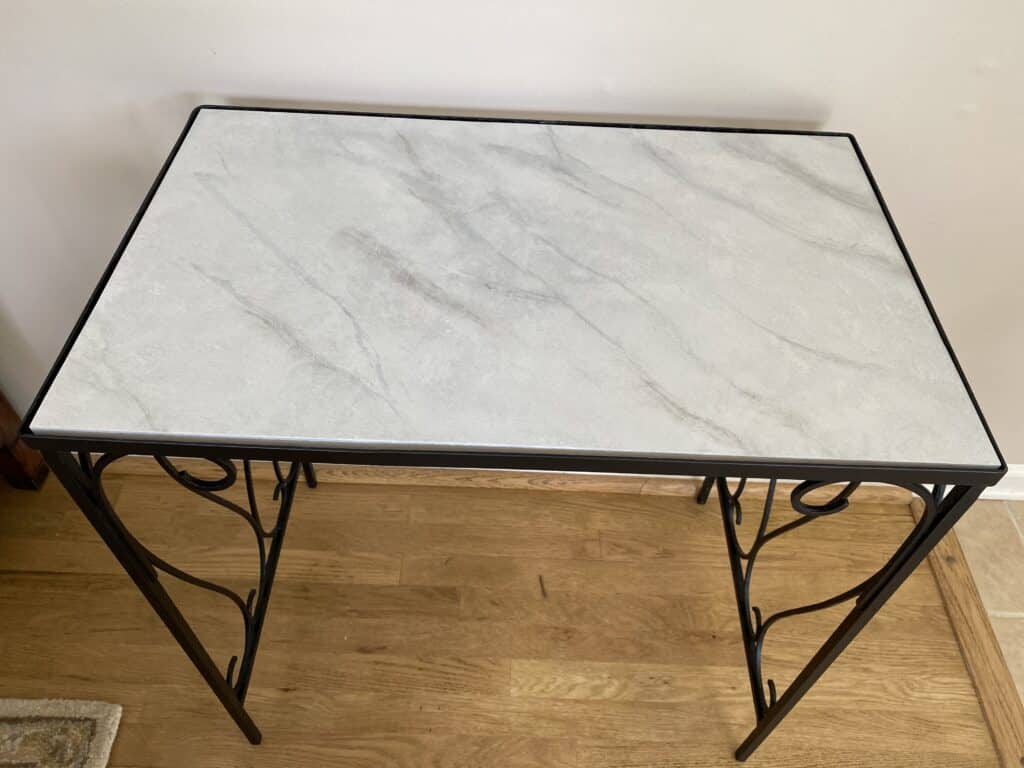 My "marble" top will certainly not fool everybody all of the time, but it definitely has a marble appearance and it complements the wrought iron table beautifully.