Traditional fall colors in shades of orange and red are beautiful for the fall season. I love to see them in nature and in other people's homes, but I like to be surrounded by calmer colors. So, I take a non-traditional route and decorate in a color palette of green, brown, gold and white. I have a nature-inspired vibe in my decor throughout the year, and my most prominent decor colors are green and brown, so it's natural for me to use these colors in my seasonal decor. You can see how I used them in my Christmas decor in this post.
This color palette works well with many other color schemes. If you're a neutral-loving decorator, greens and browns would be a perfect complement to your neutral decor. Blue and green is a pretty color combination, too. If you have a blue and white collection, accent it with brown and green for an elegant fall look.
Where to incorporate fall decor
I try not to overdo it when decorating for fall. It's my favorite season, but the opportunity for fall decor is short-lived if you decorate for Christmas. It's the coziest season and not to be overlooked, but keeping it simple will make the transition to all things Christmas an easier one.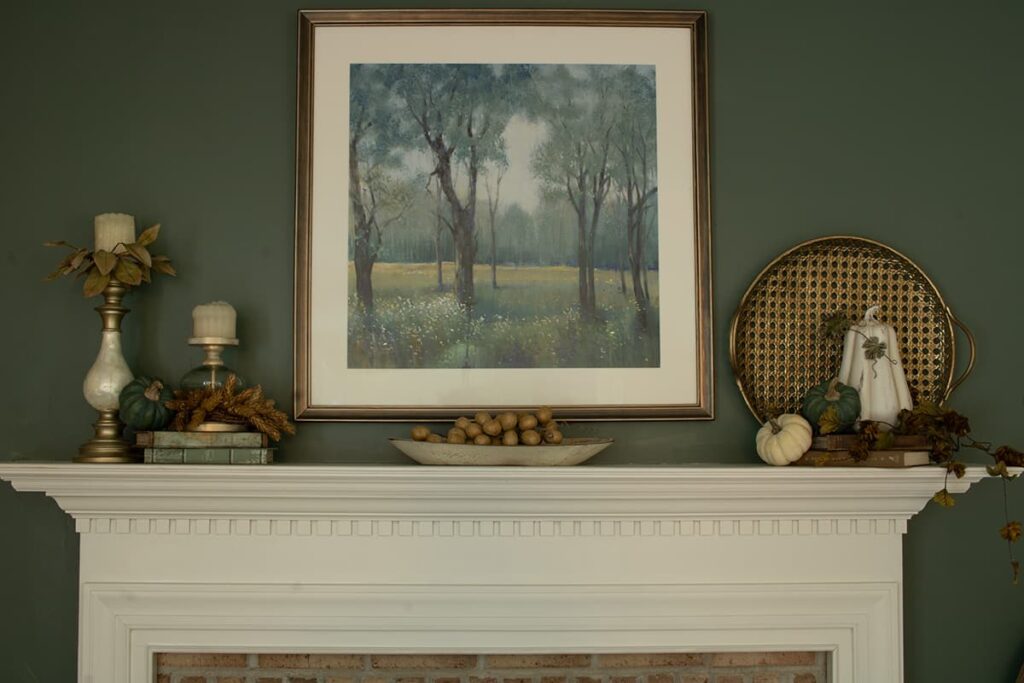 If you have a fireplace mantel, it's a great place to showcase seasonal decor. If possible, use what you have. There are two candle sticks on the left side of my mantel (shown in the photo, above), that remain most of the year, but are embellished differently each season.
Coffee tables are another spot where fall decor makes a big impact. Swapping out candles for moodier textures or colors is a way to keep it simple. I keep the same bowl on my family room coffee table but change the contents with the seasons.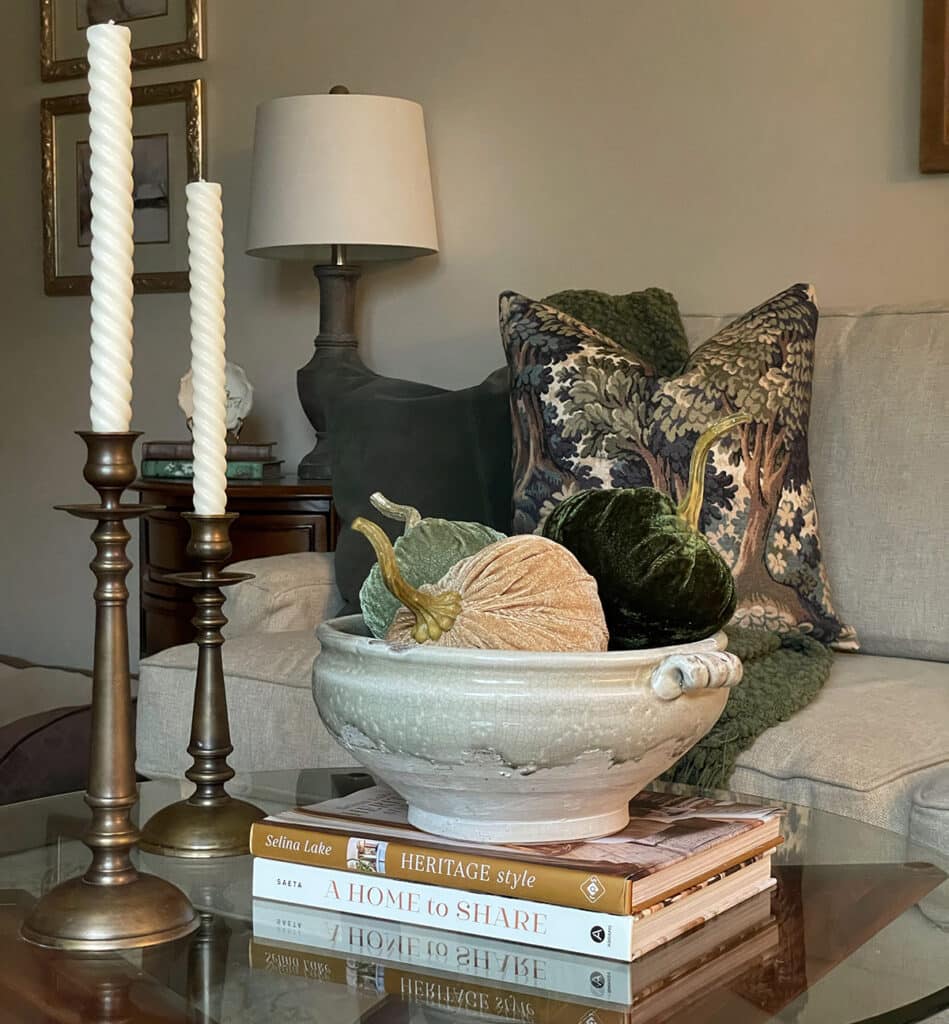 Fall centerpieces make a beautiful focal point and can be as simple as a candle surrounded by a small fall wreath.
The kitchen island is also a great place to showcase a fall floral arrangement.
This blog contains affiliate links. This means a small commission is earned if you make a purchase by using the links. The price you pay will be the same whether you use the affiliate link or go directly to the vendor's website.
Start with green
While the store aisles are lined with orange pumpkins and red faux leaves, it might seem daunting to find fall decor in non-traditional colors. Here are some ideas for green fall decor:
Faux pumpkins—Green pumpkins appear in nature, so it is possible to find faux varieties. I have found them in shades ranging from dark green to sage green and everything in between. They come in different styles, too, from elegant glass to cozy velvet and rustic wood carved varieties.
Click on the photos, below, for links to shop for faux pumpkins.

Magnolia leaves—If you live in an area where you can gather fresh magnolia leaves, you're lucky. The faux variety are plentiful in the stores starting in the fall. I like to find leaves that are green with a coppery brown back. They can be arranged so that both colors show in your decor. A plus of using magnolia leaves is their ability to transition into the Christmas season. I used a swag to surround my lantern in the photo (at right). The swag is no longer available, but you can get its matching mini wreath here.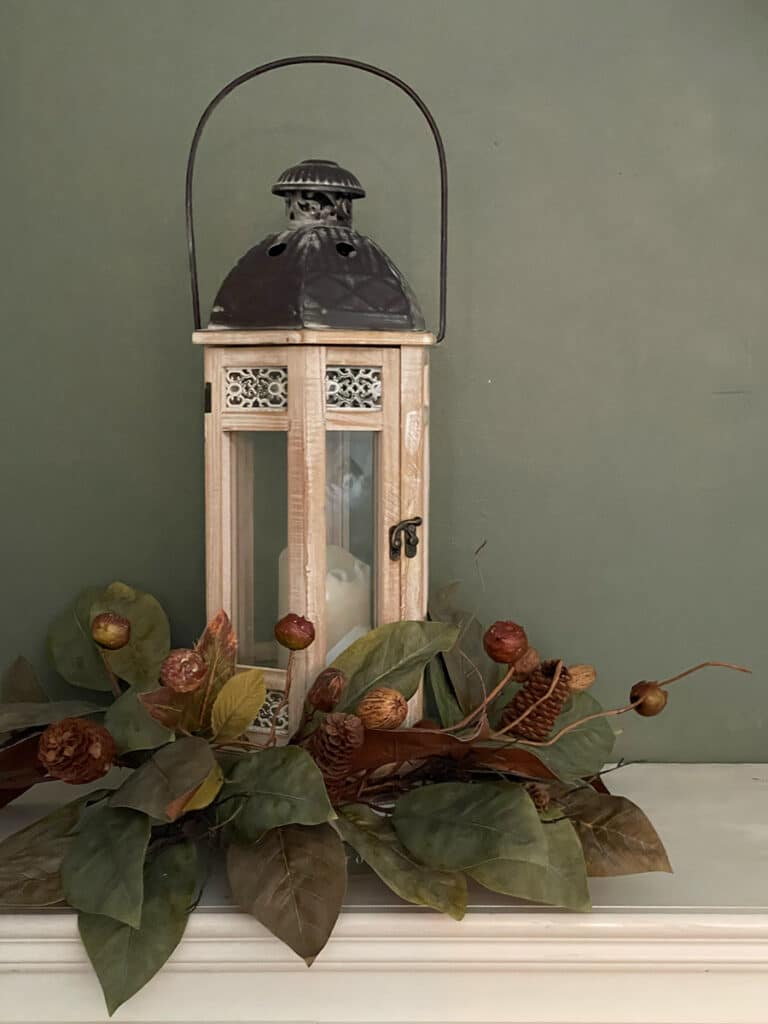 Click on the photos, below, for links to shop for faux magnolia swags and wreaths.

Books—I love to use books in my home decor throughout the year, and fall is no exception. Coffee table books and vintage books in rich colors of green serve as an anchor for fall vignettes.
Fall foliage—Some fall foliage remains green with brown edges. I've found faux varieties, but you can also forage in your yard for some beautiful stems.
​A cozy blanket—Cozy blankets or throws can be in shades of green, brown or gold. Throw them over a chair or a sofa to serve as a backdrop to your other decor.
Browns are easier to find
Brown is much easier to come by when searching for fall decor. Don't just grab up all of the fall stems. There are so many ways to add warm brown tones to your decor.
Wood—Dough bowls, wooden risers, cutting boards, decorative bowls, antiques and picture frames are just a few ideas for adding brown tones to your fall decor. I use an antique wooden clock that belonged to my grandparents in my fall decor every year.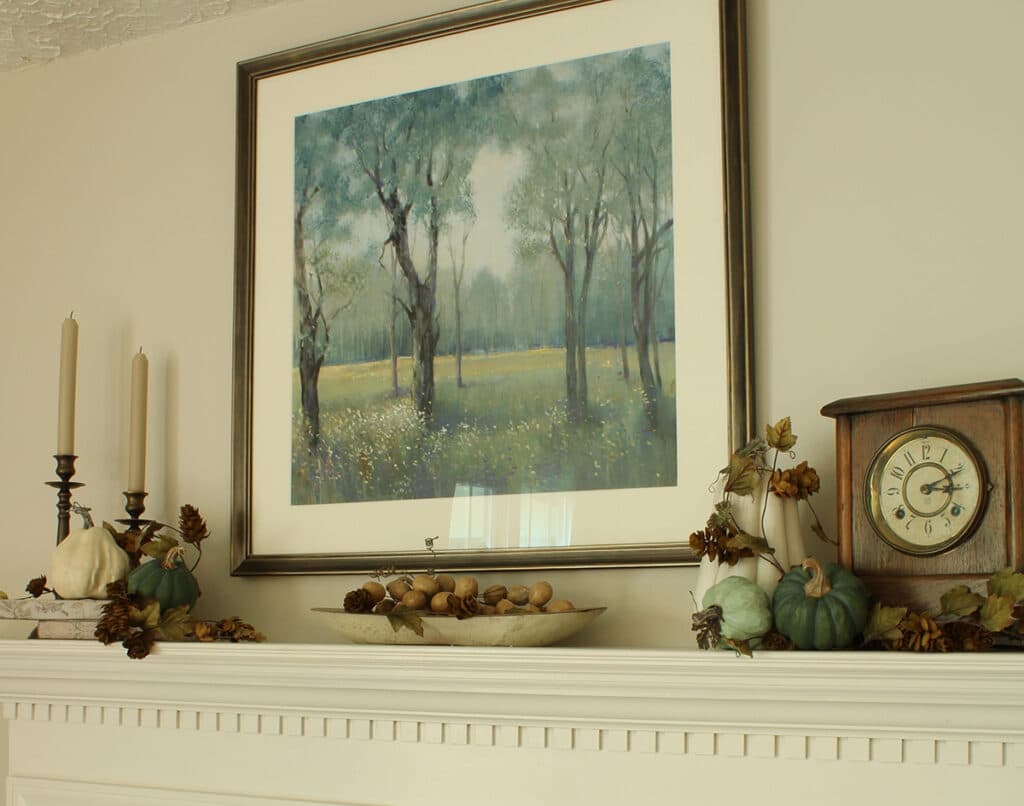 Dishware—I collect brown transferware. I love it year 'round, but it really shines in the fall. On its own or filled with fall stems, the rich brown tones really pop in fall decor.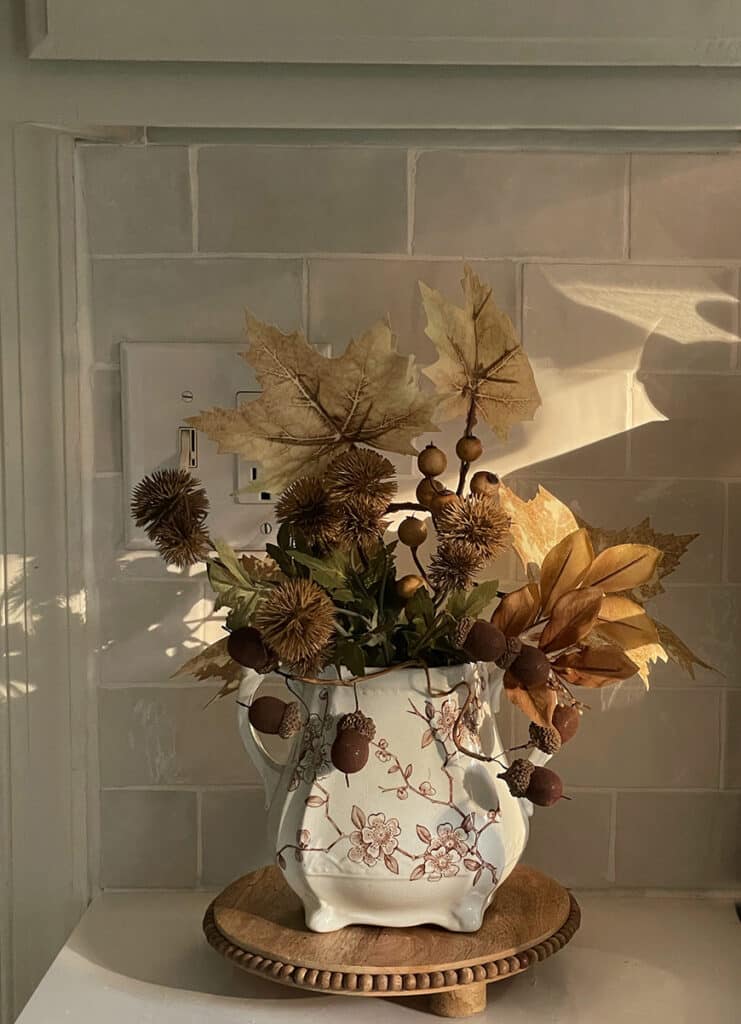 Books—Adding books is a simple way to anchor your decor in any season. I haven't found a lot of coffee table books in shades of brown, but brown covers were common on old books. Some even have leather covers, which brings in another texture.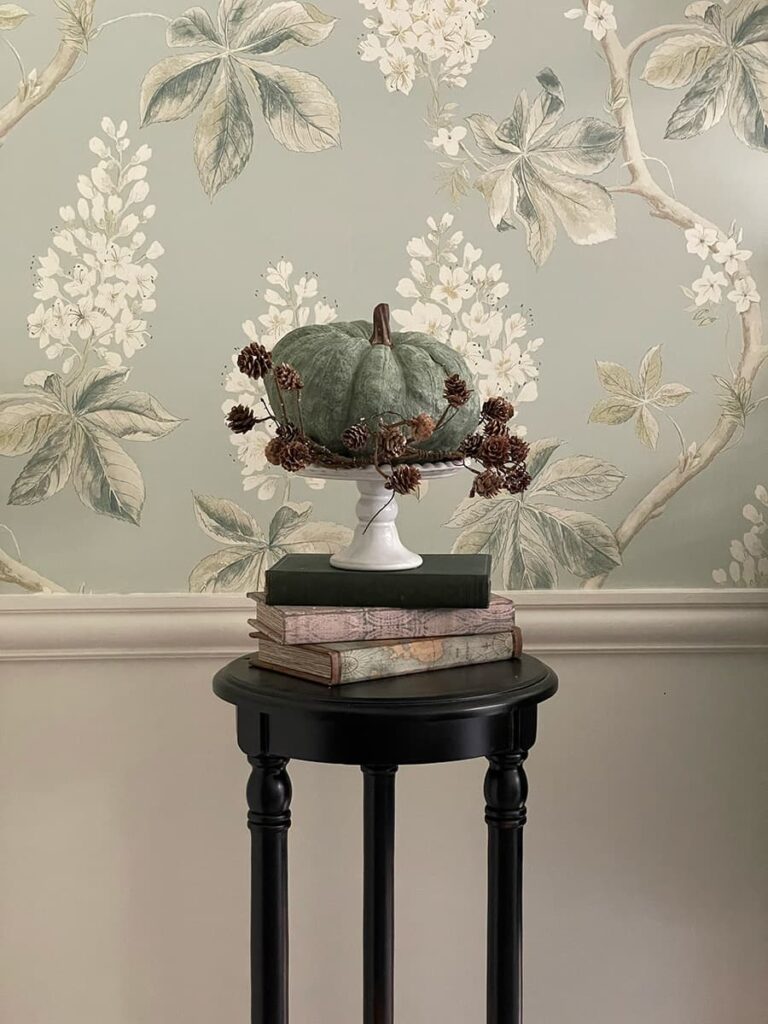 Natural Elements—Sticks and fallen branches in your yard provide a plethora of decor options for your fall decor. They add texture and a uniqueness not found in store-bought faux branches. I love to decorate with acorns and pinecones in the fall. They also transition well into the Christmas season! Plus, they're free!
Faux stems—Faux stems in shades of brown are easy to find in stores. Look for a mix of leaves, berries and florals.
Click on the photos, below, to shop for faux fall stems in brown tones.

White
Pumpkins—Real white pumpkins have been popular for the past several years. The fresh mini pumpkins last well throughout the season. I have several faux white pumpkins that work well with green and brown. Warm whites break up the dark tones and make your decor pop.
Fresh flowers—I love using white roses during the fall months. I don't have access to a Trader Joe's, but many grocery stores carry white roses in the floral section.
Dishware—White bowls are pretty when filled with green pumpkins or fall florals.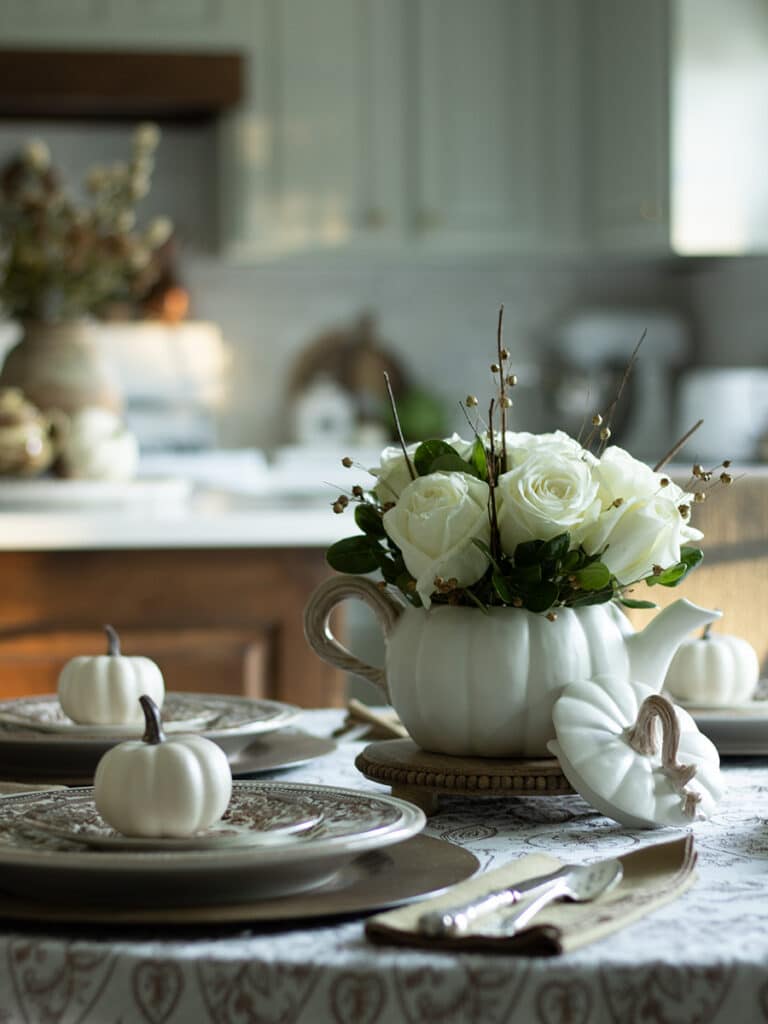 Lanterns—White lanterns add a cozy feel and provide an opportunity for candle light.
Wheat stems—Wheat stems can be tucked into an arrangement of faux stems to brighten it and provide some separation between the darker stems.
Add some pops of gold
I like to mix in some warm metals with my fall decor.
Trays—Brass trays work as a backdrop for green and gold decor or as a base to corral a vignette.
Decorative metal items—Brass decorative items such as paperweights or bowls add a bit of shimmer.
Bronze—candle sticks in bronzy gold mix well with shades of brown and green.
How to decorate with green and brown
When creating vignettes, centerpieces or arrangements, be sure to add a variety of colors that are in the palette and a mix of textures. Also, varying the height adds interest and is pleasing to the eye. One side of my mantel is host to a large white pumpkin, a green pumpkin, a small white pumpkin and a brown acorn garland. The vignette is grounded with brown books and backed with a warm brass tray. The books also serve to raise up the vignette and give it a better presence on the mantel.
The pumpkin vignette is balanced by a pair of candle sticks on the other side. One is white and one is brass. A small green pumpkin provides some continuity with its mate on the other side of the mantel. Faux leaf candle rings pull in the brown tones, and the vignette is grounded with a pair of green books.
On one of my fireplace built ins, I've surrounded a white lantern with magnolia leaves and large brown berries. The leaves are green and brown and they make the white lantern and candle pop.
A natural brown pottery vase on my island is filled with brown faux stems and accompanied by a white pumpkin.
My favorite addition to my fall decor this year is a brown transferware container filled with a variety of fall leaves, berries and even some acorns. The stems highlight the brown pattern on the container. It's simple but pretty.
If you love the traditional colors of fall, go for it. I have a couple of nods to the traditional tones in my house. But if you are looking for something a little less traditional and maybe a bit more calming, try shades of green and brown in your fall decor.