Welcome to the Virtual Book Club!
I join three bloggers during the fourth week of each month to share our interpretation of a different book.
On Thursday, we share a home-decor related post and follow on Saturday with a culinary post, both inspired by the month's book.
Father of the Bride
This month's book is Father of the Bride. You're probably familiar with the 1991 movie starring Steve Martin and Diane Keaton. There is also a 1950 version with Spencer Tracy and Elizabeth Taylor and a more-recent one, with Andy Garcia and Gloria Estefan, which was released in 2022. All are based on the 1949 novel by Edward Streeter and focus on a father who is dealing with the emotions of losing his little girl, as well as the expense and drama leading up to the big day.
In each case, the wedding is a big extravaganza requiring lots of expense and the services of a wedding planner.
A season of weddings
My husband, Dave, and I have three children. Our oldest, Meghan, married her college sweetheart, Brant, in a beach wedding in North Carolina. Our middle child, Drew, married his beautiful bride, Paula, at a mountain resort, and our youngest, Molly, tied the knot in the backyard with a handful of guests days before her Navy pilot husband, Tim, deployed.
A simpler approach
All three of our children were opposed to a big, extravagant wedding. They each wanted a smaller event that focused on celebrating with family and close friends. Meghan was the first to marry. Since this month's book focuses on the father of the bride, my post features that wedding. Molly's wedding was squeezed in during the pandemic just before Tim had to deploy. We live in Maryland, and they were in Florida where Tim was stationed. We would gladly have flown there, but they wanted to do it on their own, and, while it broke my heart, we respected their decision. I had hoped that they would hold a reception for family and friends at a later date, but they've decided against that, too. Anyway, on to Meghan's wedding where the father of the bride had a good bit of responsibility.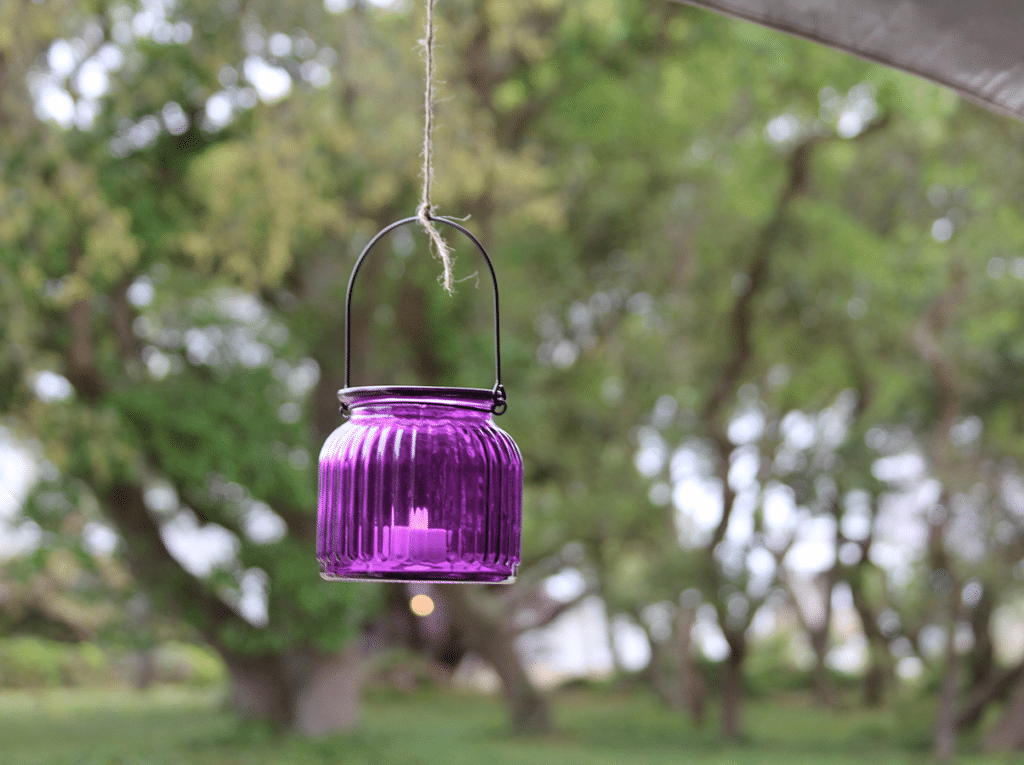 A beach wedding with three requests
Meghan and Brant met at the University of North Carolina at Wilmington, where Meghan majored in marine biology. She's like a fish in the water and has always loved the ocean. Brant grew up in NC, and his family has a beach house, so he spent summers fishing and enjoying beach life in general. Meghan and Brant had spent a lot of time in the quaint beach town of Oak Island and wanted to get married there. In addition to a beach wedding, Meghan's only other requests were as follows: 1) a small gathering with close family and close friends, 2) barbecue from their favorite restaurant on the island, and 3) tables for the reception made out of doors. What??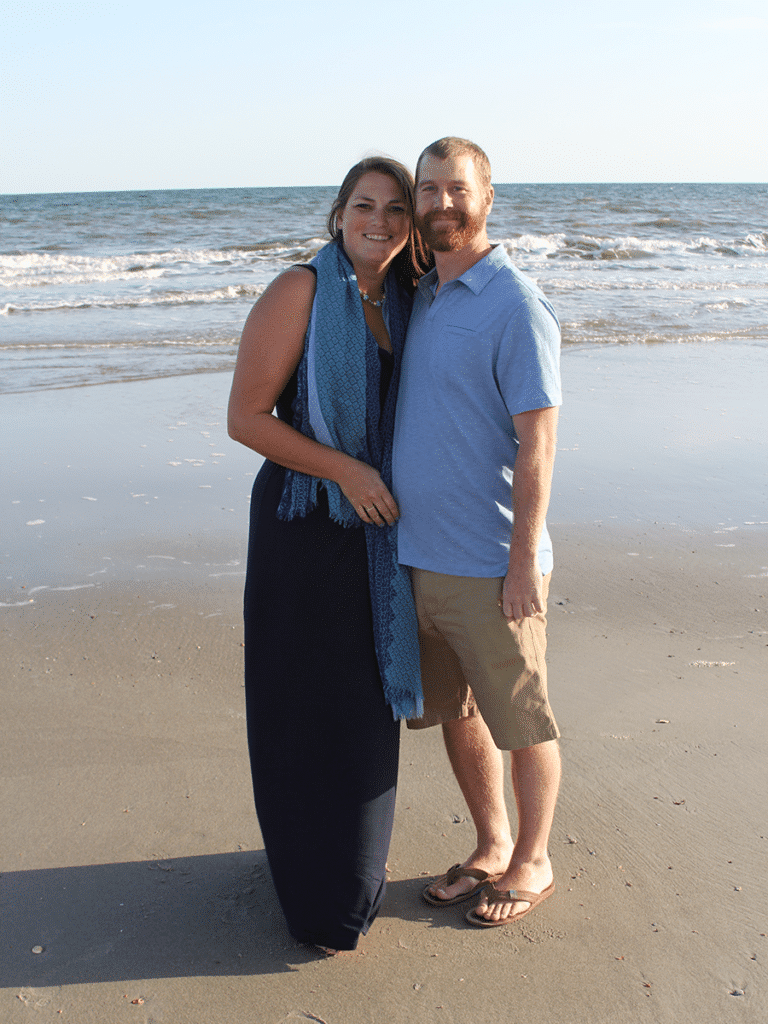 Renting the perfect beach house
While Brant's family has a beach house, it's not right on the ocean. Meghan and Brant were determined to get married on the beach, close to the water. The couple scouted the area and found two water-front houses next to each other. One, in particular, seemed perfect for a reception. There was an adequate yard in the back and plenty of covered space, as well. The rental of the large house was the biggest expense, but it provided the venue for the wedding and the reception, lodging for our family (including Dave and me, our kids and their significant others, my parents, and my brother), and a beautiful vacation spot for a week.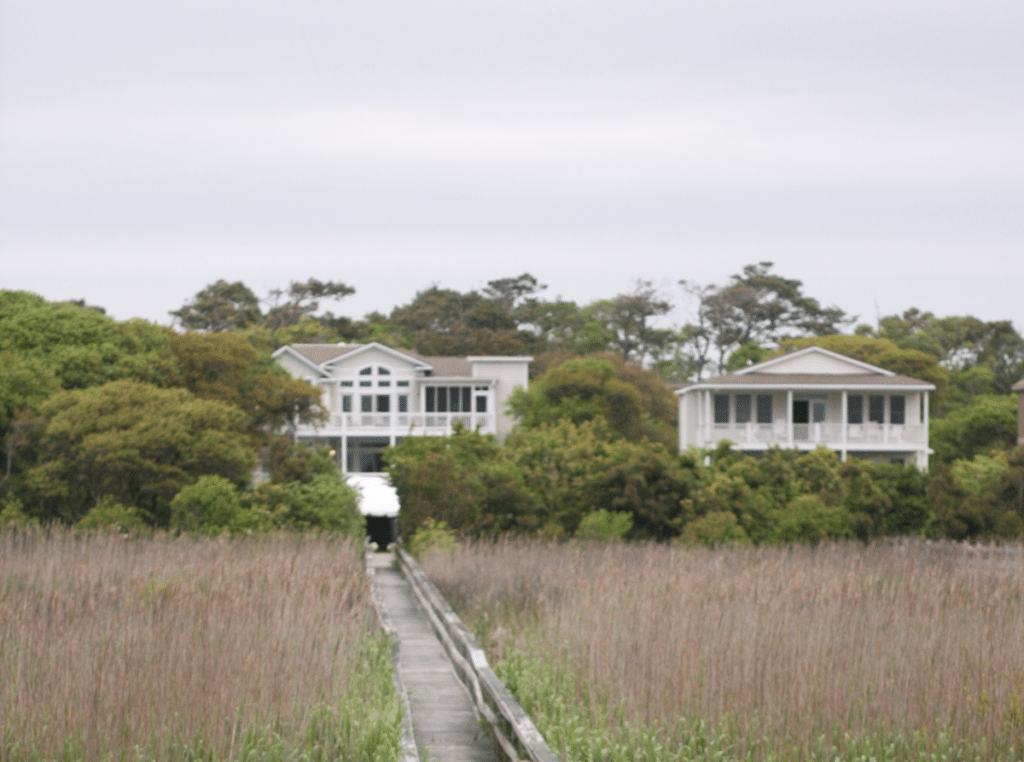 Brant's family rented the house next door, where the backyard was perfect for a Friday night gathering that they hosted. They served a wonderful low-country boil. We carried the door tables to their backyard for the event. The centerpieces of sand- and shell-filled glass lanterns were charming and added to the beachy vibe.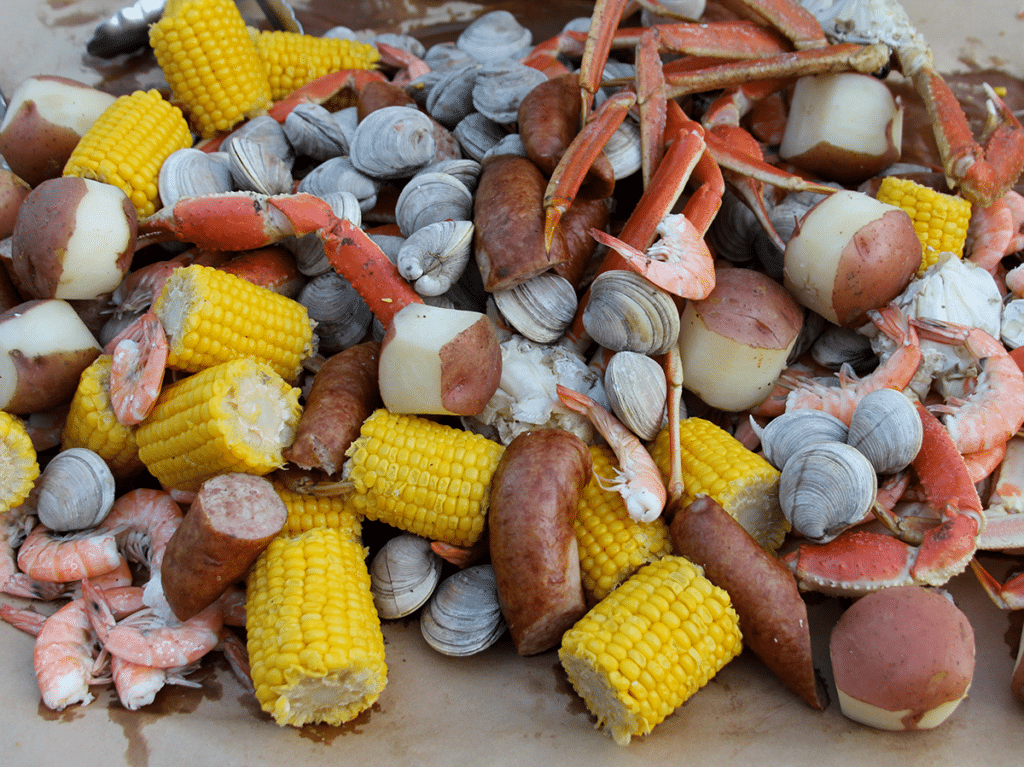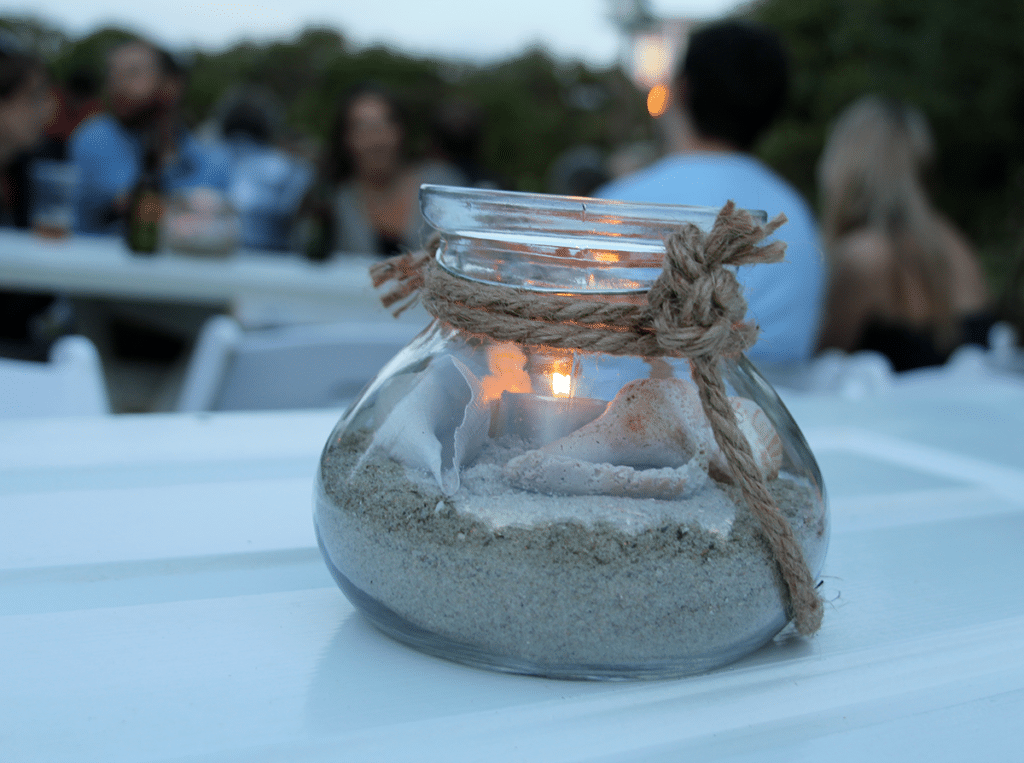 Renting adjacent homes for a week allowed the two families to get to know each other, as we don't live close and had not had a lot of opportunity to spend time together during Meghan and Brant's dating years.
You can do that, right, Daddy??
With the houses rented, it was time to make plans. Meghan likes natural elements. She's not a fan of anything faux, and she's not into frills, either. A plastic table covered with pleated skirting was not what she envisioned for her reception. She came up with the idea of using old doors and just assumed her DIY-savvy dad could turn them into tables. To be fair, our kids grew up in a home where we DIYed everything, and they were usually put to work on each project. As a result, they have some pretty mean DIY skills themselves. Dave knew he would have good helpers, but figuring out the design and overseeing the job was his responsibility.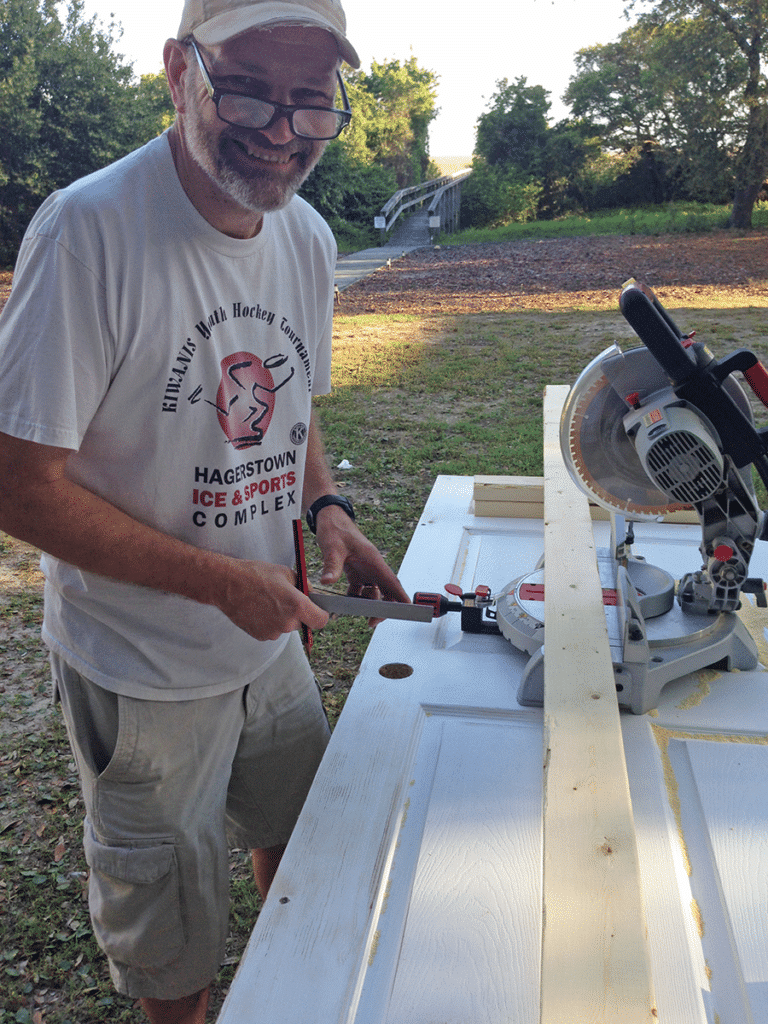 Sourcing doors for tables
While using doors as table tops might be a budget-friendly option, it required some advance planning and logistical maneuvers. It was determined that the tables would have to be built on-site. We live an eight-hour drive from the wedding venue, so transporting 14 tables and doors was not feasible. With the idea in place a year in advance, we spent every visit to North Carolina shopping for old doors in the local Restores and thrift shops. Meghan and Brant also searched on their own, and we had 14 doors ready to go in time for the wedding.
Building the tables
Dave sketched out a plan for the table legs and had a Lowe's list ready to go when we arrived at the beach house. Meghan, Drew and some friends set up an assembly line. They used a simple X design for the legs. When the tables were finished, my dad and I painted them white (with the exception of three beautiful wooden doors that Meghan wanted to keep natural). We didn't know what we were going to do with the tables after the wedding. When the rental company that delivered the tent offered to buy them from us we were thrilled. (Meghan kept one door, and you can see what she did with it, below.) They liked how they looked and thought they could rent them out for other weddings. Keep that in mind if you DIY something unique. If you like it, others will too, and a rental company could see it as a good investment!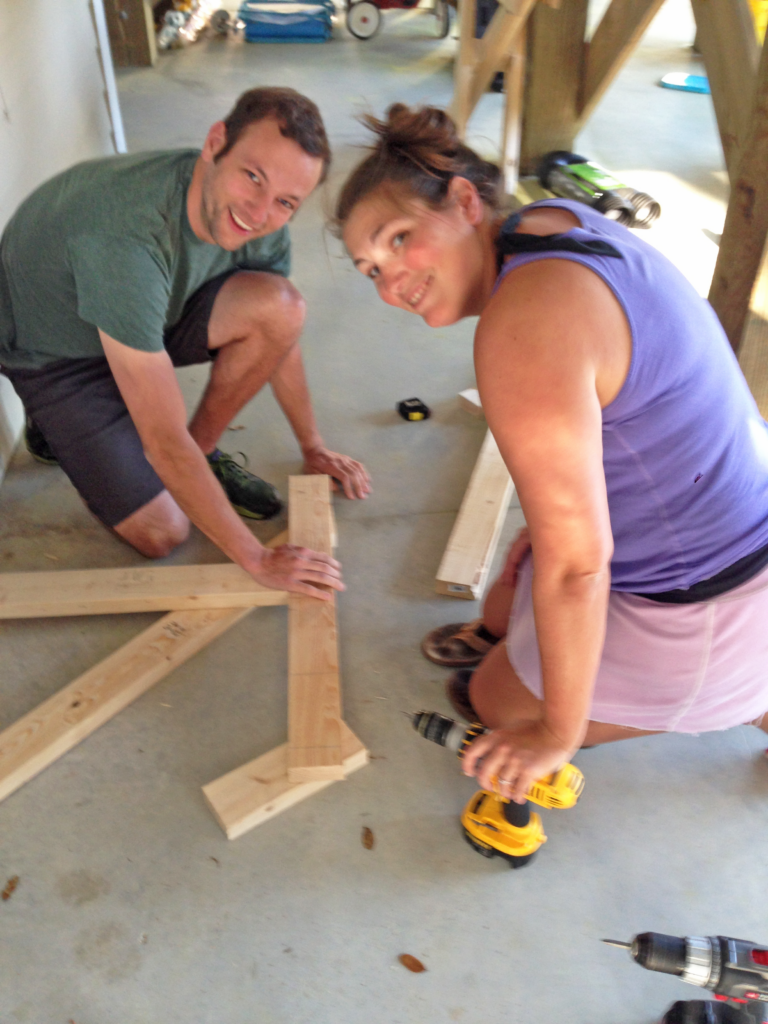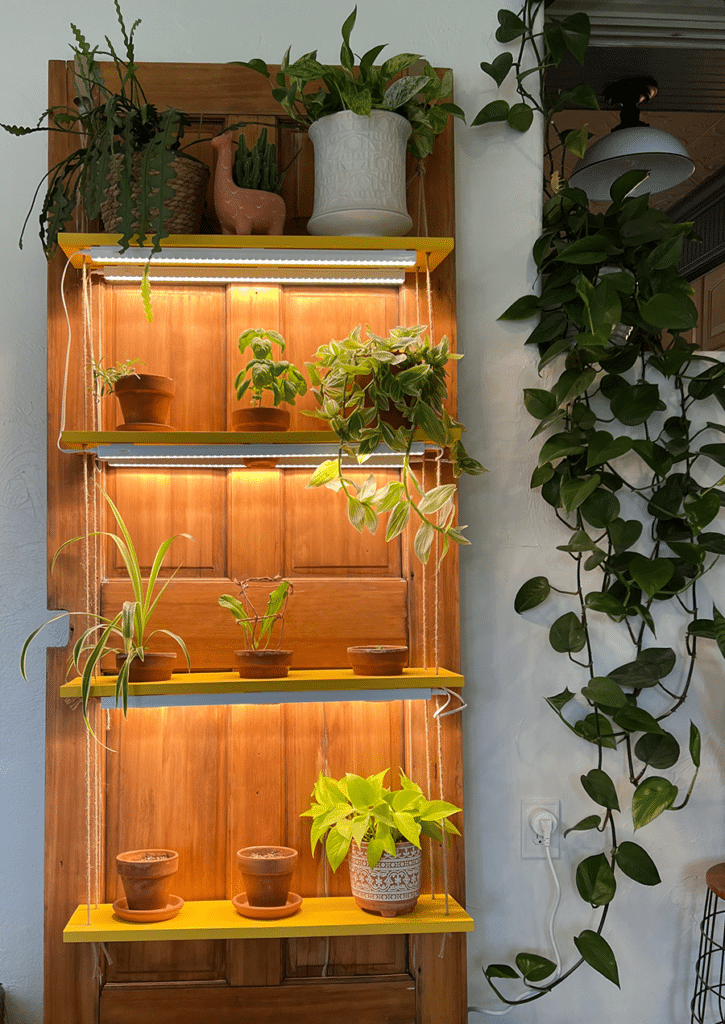 Meghan kept one of the wooden doors and recently repurposed it into an herb garden. She coated it with polyurethane, added hanging shelves and grow lights and anchored it to the wall in her sunroom. It is just getting started, so some of the herbs haven't sprouted.
It serves a great purpose, is pretty and unique and will be a sweet reminder of their special day for years to come.
Keeping the decor simple
While the doors were unique and the perfect size for table tops, they presented one challenge. They all had raised panels that caused plates to be lopsided when placed on the table. We thought about buying plexiglass tops, but it would have been very expensive. We solved the problem by using large, white chargers. They spanned the panel indentations and provided a stable base for the plates. Since barbecue was on the menu, fancy place settings would have been out of place. Simple burlap runners were just right for Meghan's style and the beach setting, and they didn't hide the details of the doors. We added a favor bag filled with beach-themed chocolates. I found a half-price sale on lanterns at Michael's, and we added simple floral arrangements.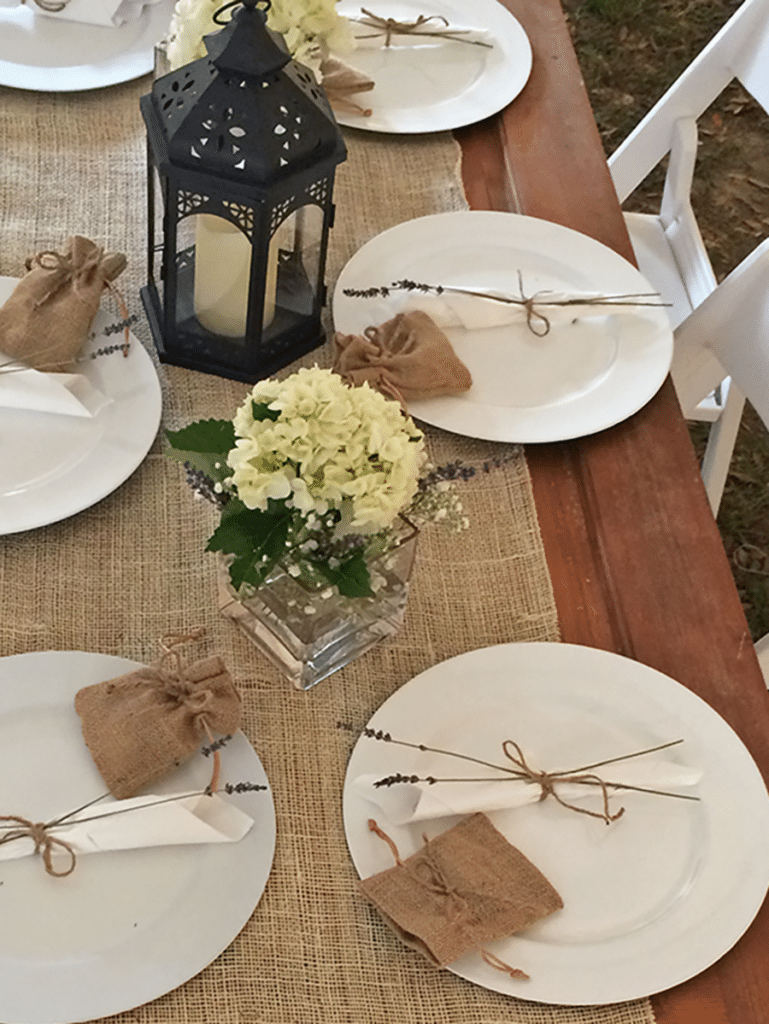 Grocery store flowers
Meghan knew that she wanted lots of white hydrangeas as her wedding flowers. Resources are limited on Oak Island, so we checked around and discovered that Harris Teeter will order flowers in bulk. Since there was a store fairly close by, we ordered hydrangeas, baby's breath and lavender to add a pop of purple, Meghan's favorite color. We used inexpensive glass cubes on the tables filled with one or two hydrangea blooms and some lavender. Lavender sprigs tied with a burlap bow held the flatware in the napkins. Several buckets overflowing with hydrangeas dressed up the entrances to the tent.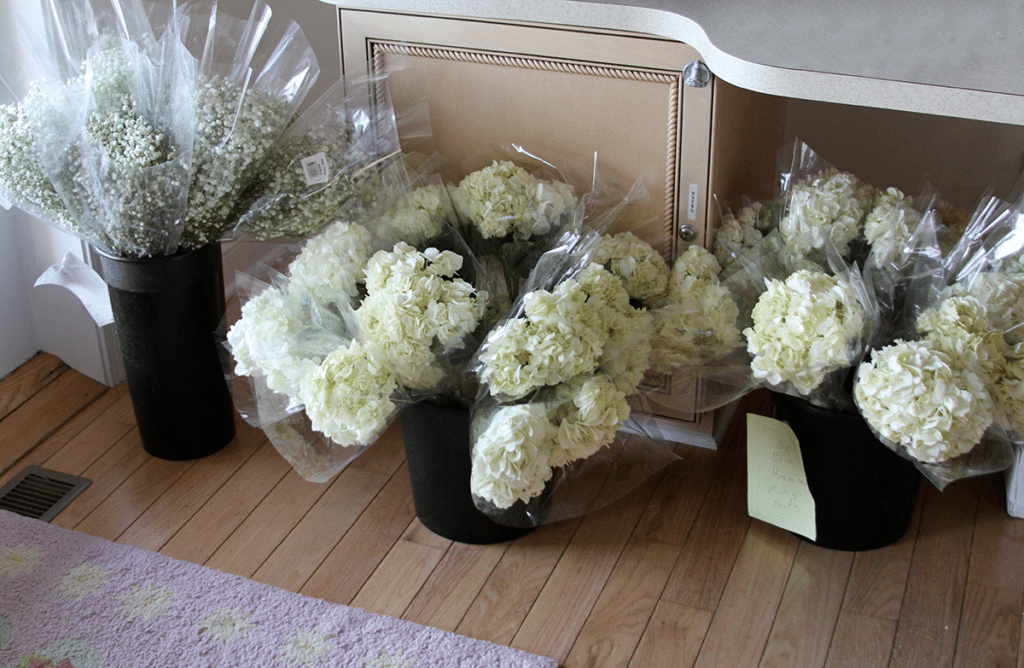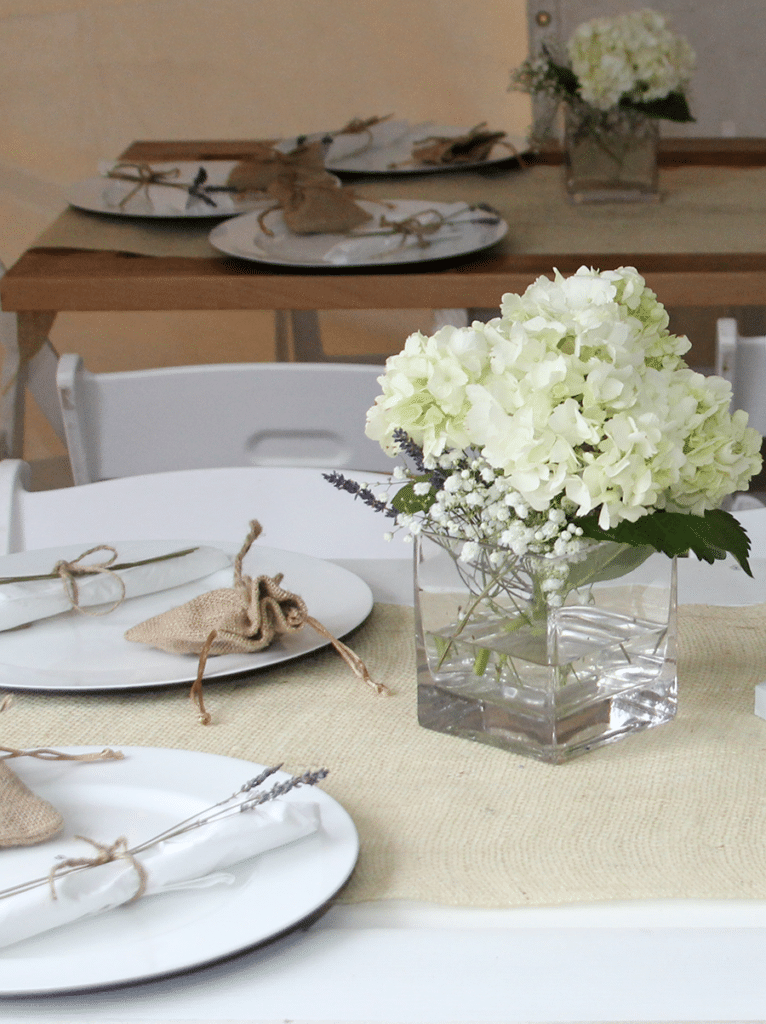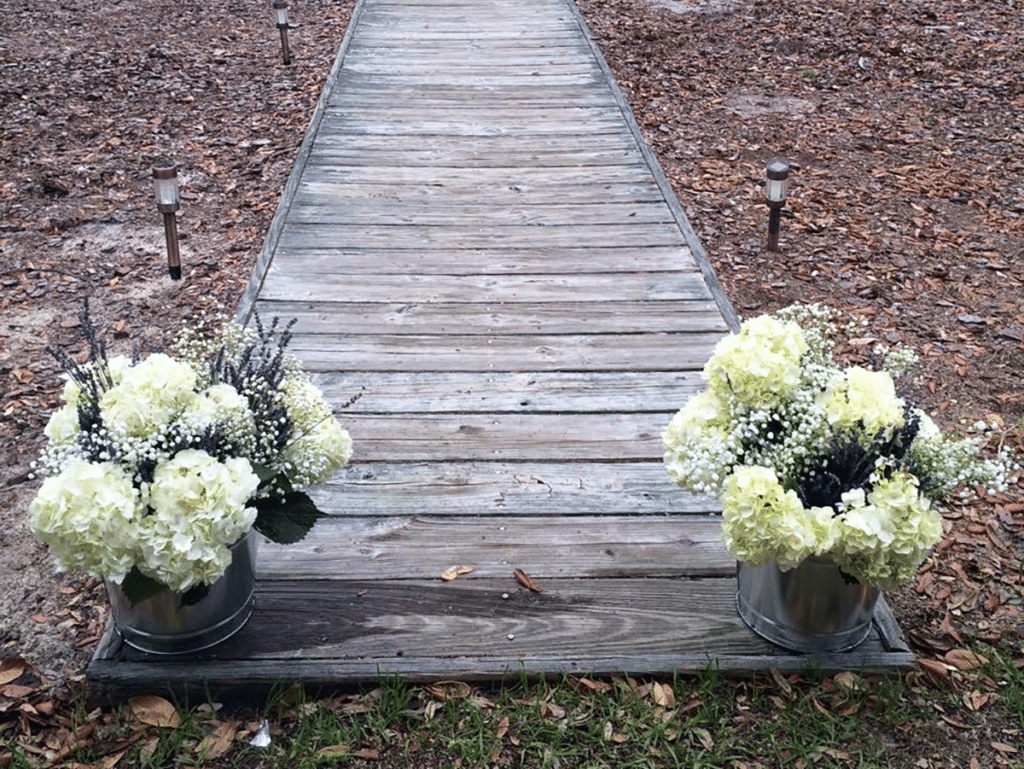 They say rain is lucky on your wedding day
Speaking of the tent, we actually were hoping not to use it. Meghan really wanted to be outside in the open air, but Mother Nature had other plans. It rained all day before the 5:00 pm nuptials. There was a break that lasted long enough for the ceremony on the beach, but it was raining as guests made their way back to the tent.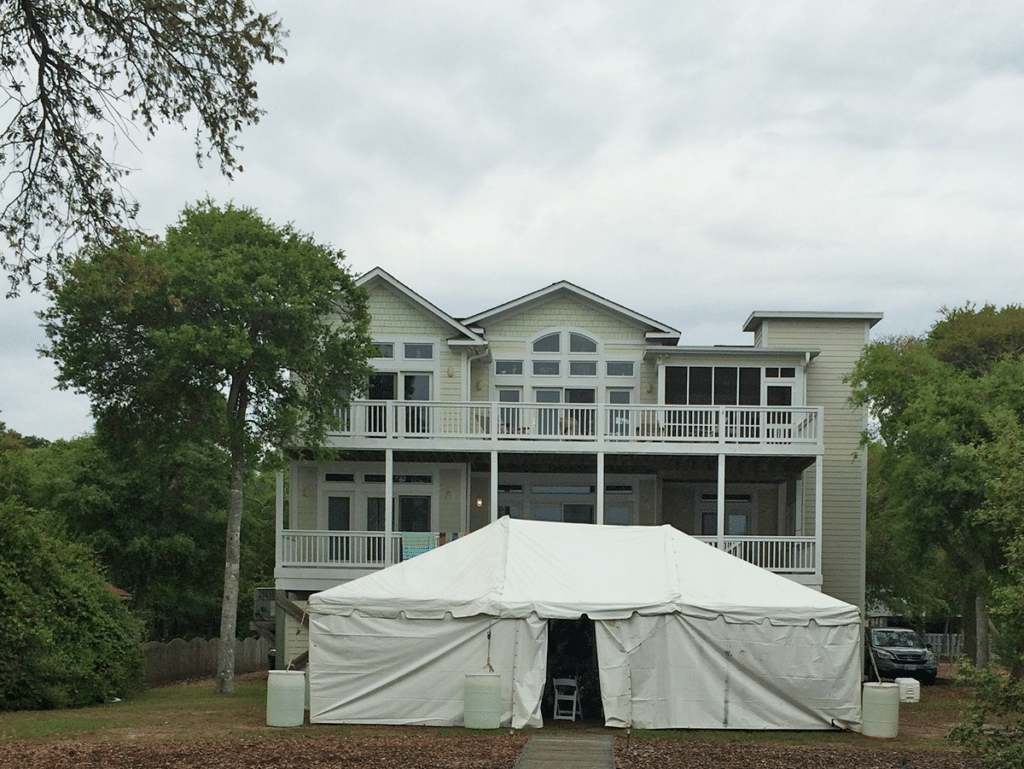 Unwelcome "guests"
A 700-foot boardwalk over a marsh separated our rental house from the beach. There was a "Beware of Alligators" sign at the entrance to the boardwalk, which made me nervous. Sure enough, as you made your way to the beach, you could spot many baby alligators down below in the marshy waters. They didn't concern me, but at the end of the marsh, and just before the dunes to the beach, was a large pond that was inhabited by a six-foot long adult (maybe the mama to those babies). Her eyes rose out of the murky water as you crossed the bridge over her domain, and I made sure to tell her that she was not invited to the wedding.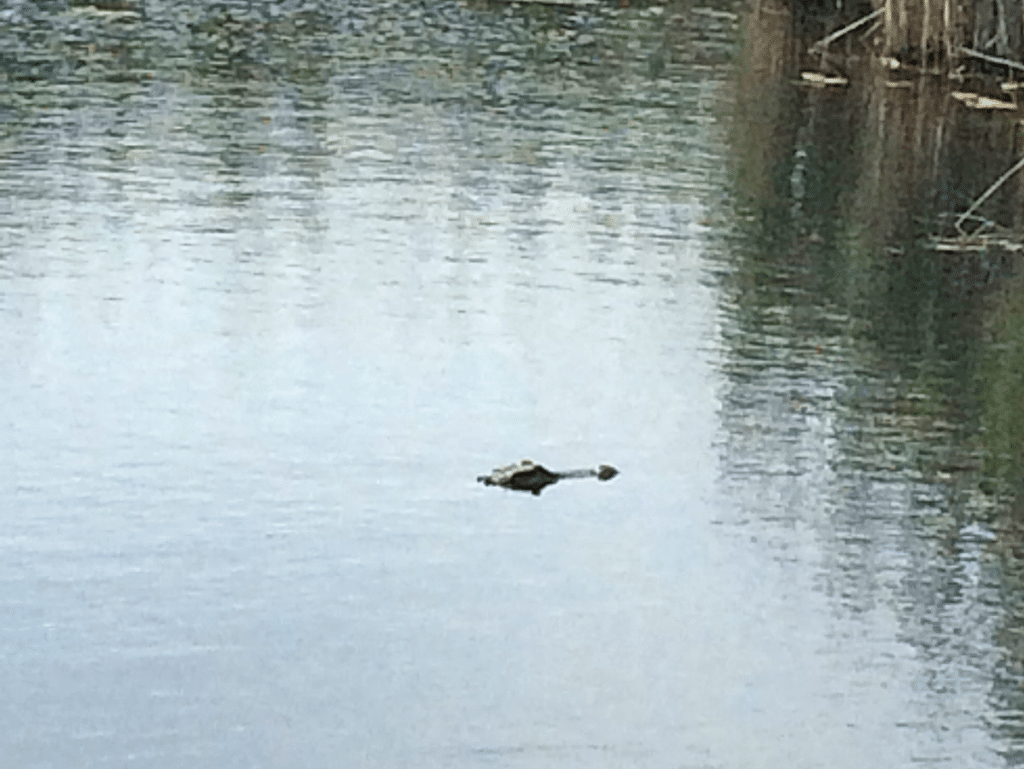 A family affair
The bridge also made a lovely walkway for guests to approach the beach for the ceremony. Meghan and Dave waited out of site on a gazebo that was to the side of the boardwalk. Once the guests were assembled, my brother, who is a musician, sang and played guitar as the proud father of the bride walked his daughter across the dunes, through the crowd of family and friends to the water's edge, where my father, the grandfather of the bride, performed a beautiful wedding ceremony.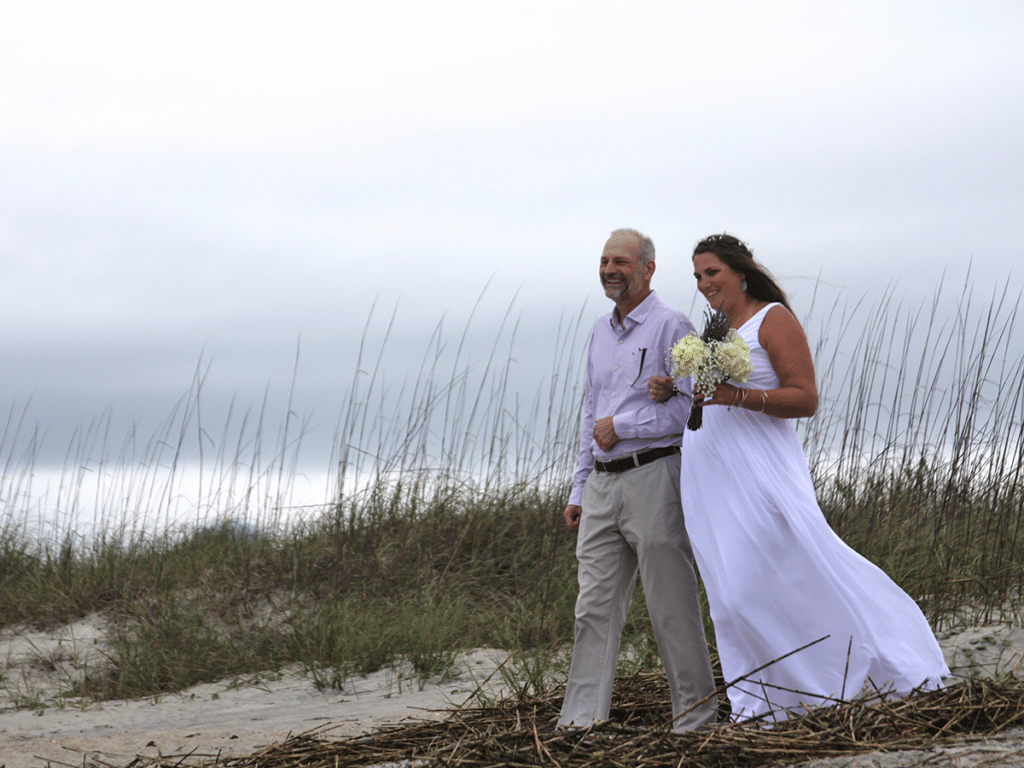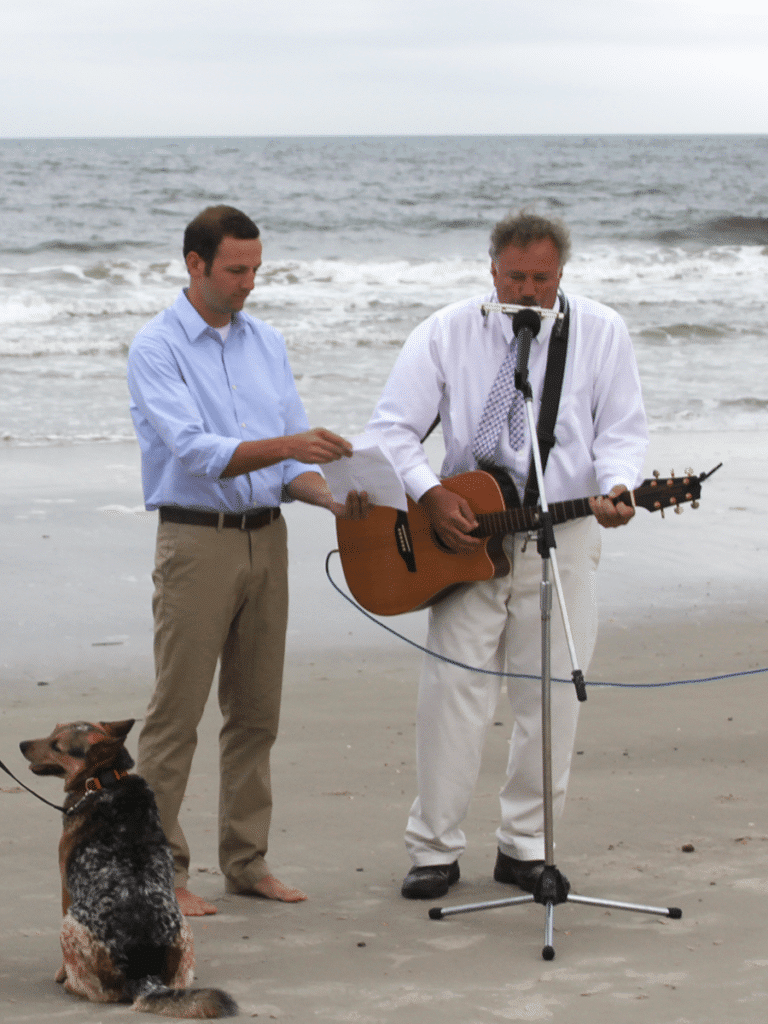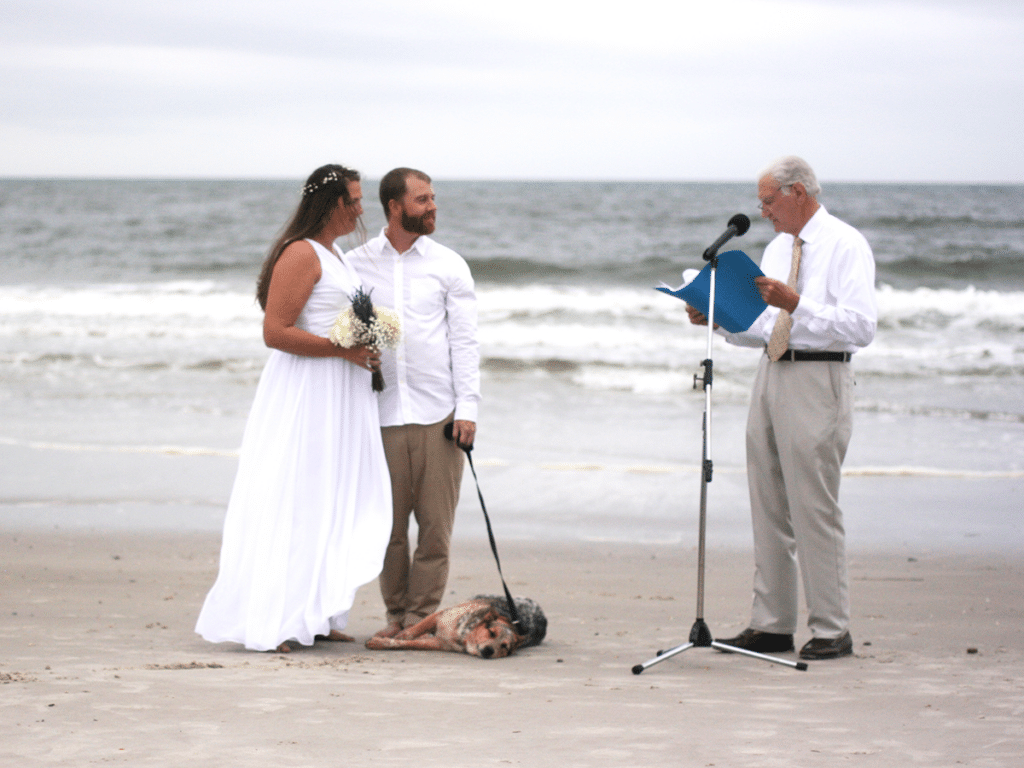 My brother also provided dance music for the reception and was accompanied by, you guessed it, the father of the bride on drums!
The perfect ending to the day
The rain continued while we ate and danced, but it cleared up as it was getting dark. Everyone made their way back to the beach for a bonfire. We set up a simple s'mores bar on the gazebo for a fun and relaxed ending to the day.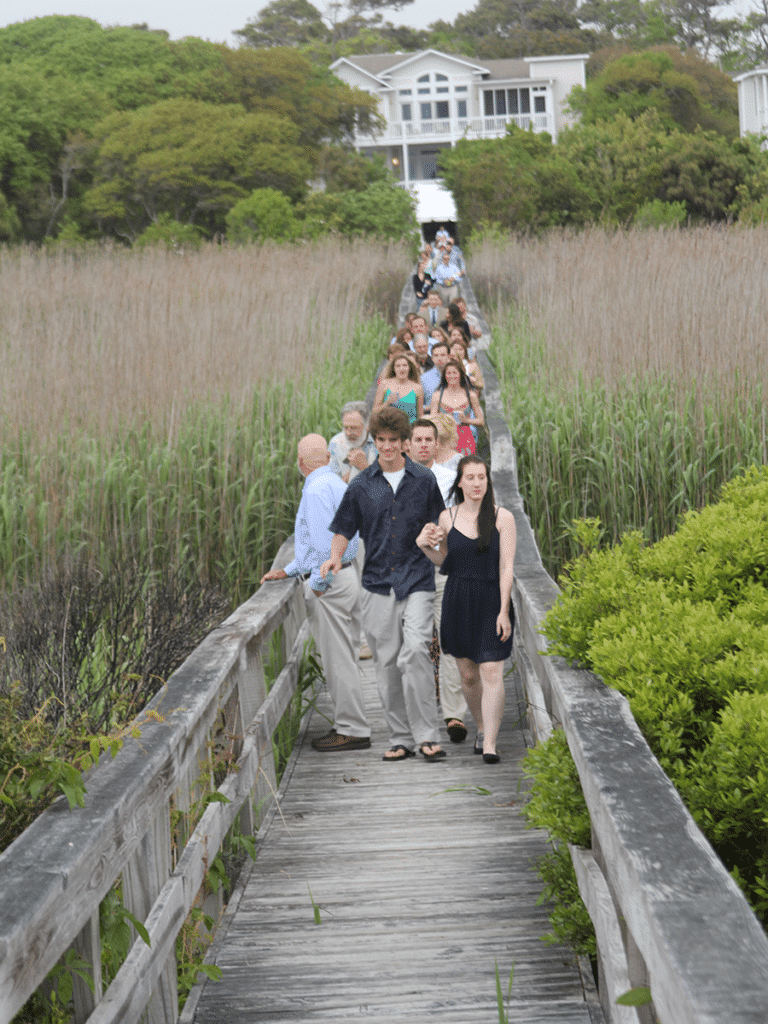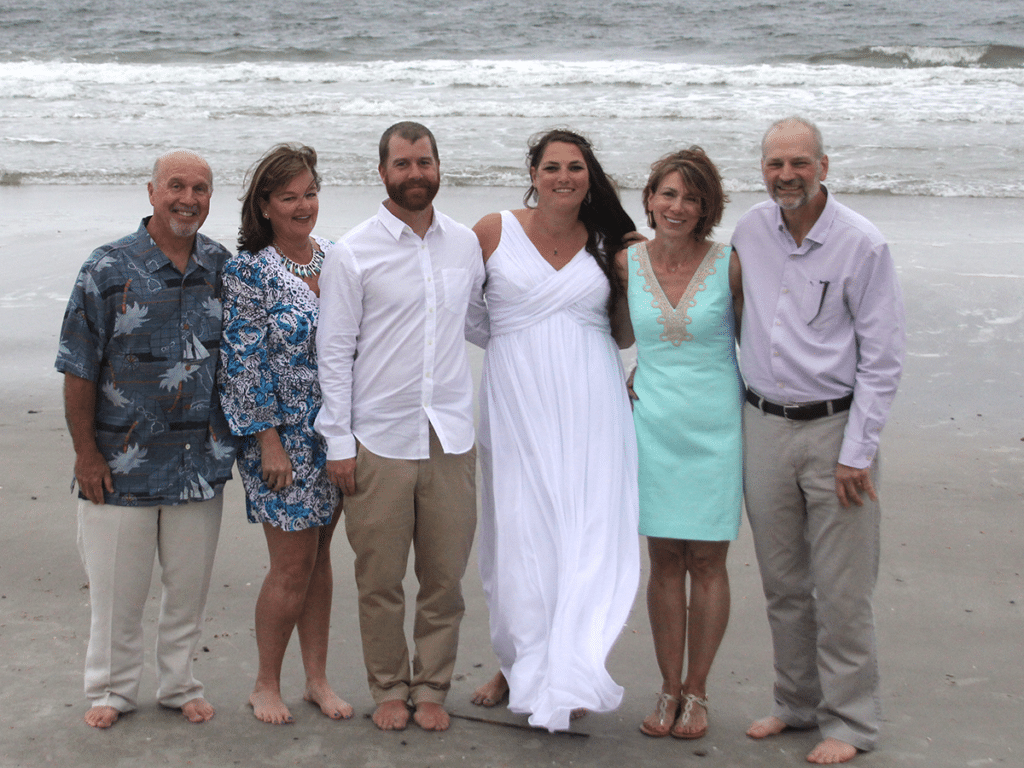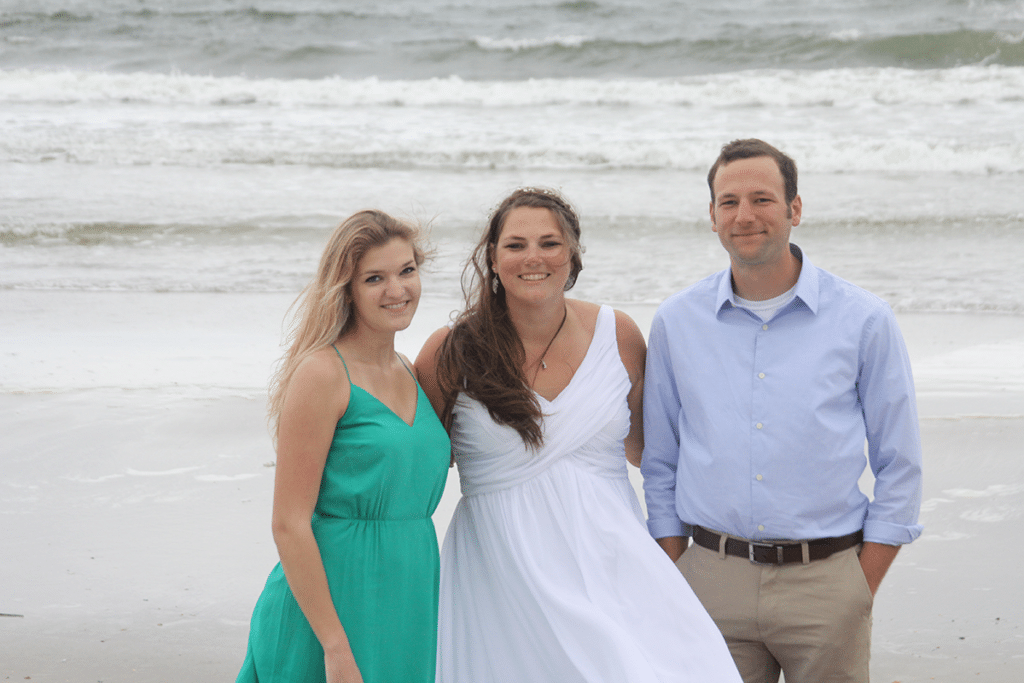 Tips for keeping wedding costs down
Meghan and Brant made it clear that an expensive, fancy wedding was not important to them. They just wanted to be surrounded by the people they loved and celebrate in a relaxed fashion. Here are some tips for keeping costs down while providing a fun experience:
Choose a venue that can accommodate the wedding and reception.
Choose a less expensive food option–everyone loved the barbecue. Our son and his wife chose gourmet pizzas and salad for their wedding dinner. A friend's daughter had a taco bar. Food doesn't have to be expensive to be good.
DIY the flowers. Sourcing the flowers from a grocery store was a great option.
Throw a destination wedding at a local destination. We had a beach wedding, but many of the guests lived in the state where it was held, and it was a manageable drive for those who didn't. The beach setting was beautiful and provided ambiance without a lot of money spent on decorations. Our son's wedding was held at a mountain resort. It wasn't a fancy resort, but everyone spent the weekend together, and minimal decorations were needed when there were gorgeous mountain views.
We were lucky to have talented musicians in the family to provide live music. My daughter-in-law prepared a playlist that played over a friend's borrowed sound system following the live music. If you don't have access to free live music, a playlist works great.
Take friends up on offers to help. My daughter had a friend whose uncle owns a bakery and she wanted to give the cake as a wedding gift. Another friend, who is an amateur photographer, offered to photograph the wedding.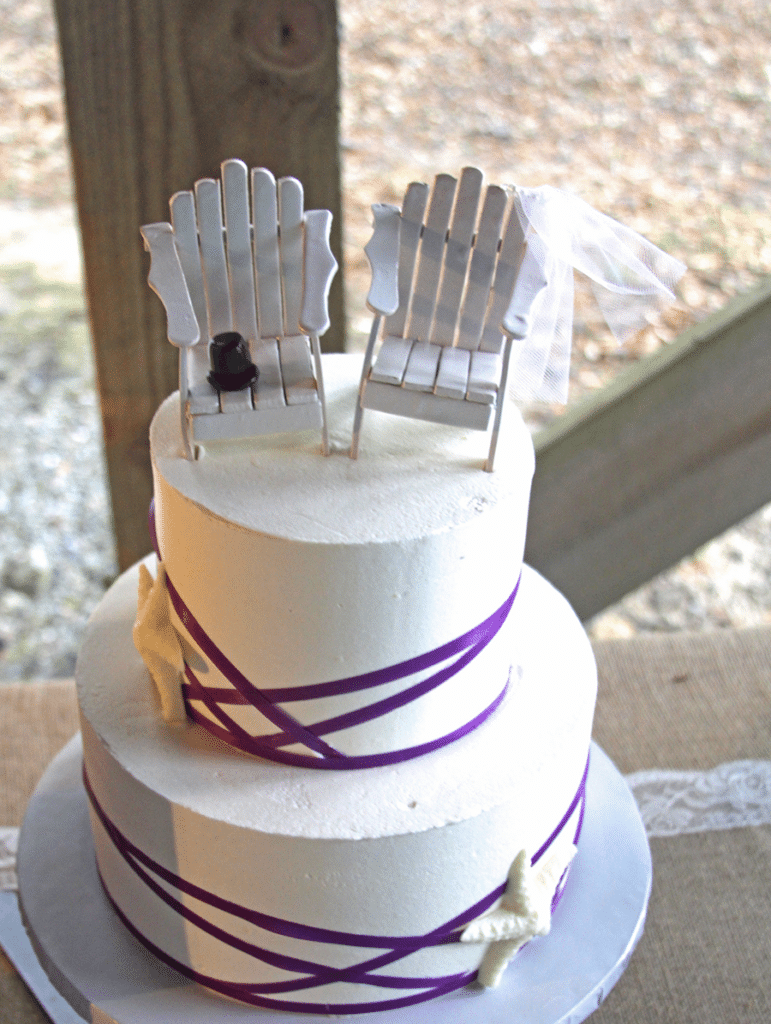 The Virtual Book Club
Please join my Virtual Book Club blogger friends to see what beautiful wedding inspiration they have to share!