Welcome to the Virtual Book Club—Culinary Version.
I join three bloggers during the fourth week of each month to share our interpretation of a different book.
On Thursday, we share a home-decor related post and follow
on Saturday with a culinary post, both inspired by the month's book.
Skip to Raspberry Vinaigrette Recipe
---
Anne of Green Gables
This month, our book club read Anne of Green Gables, which holds a special memory for me as I read it with my son when he was in fourth grade. You can read more about that here. The book, by Lucy Maud Montgomery, is set in the late 1800s and recounts the adventures of an orphan girl, Anne Shirley, who is taken in by a pair of middle-aged siblings, Matthew and Marilla Cuthbert. Anne is quite imaginative, dramatic and adventurous.
Raspberry deliciousness!
Having been an orphan living in spartan conditions, Anne is in awe of every experience in her new life. Foods she has never had are magical to her. As the family lived on a farm, recipes with fresh fruits are prevalent. Raspberries, in particular, are mentioned several times.
In Chapter 15, Anne enjoys raspberry tarts with her friend, Diana.
"It's a lot nicer than going round by the road; that is so dusty and hot," said Diana practically, peeping into her dinner basket and mentally calculating if the three juicy, toothsome, raspberry tarts reposing there were divided among ten girls how many bites each girl would have.
In an iconic scene in Chapter 16, Anne mistakenly serves Marilla's currant wine to Diana instead of raspberry cordial, sending her home drunk.
When Anne came back from the kitchen Diana was drinking her second glassful of cordial; and, being entreated thereto by Anne, she offered no particular objection to the drinking of a third. The tumblerfuls were generous ones and the raspberry cordial was certainly very nice.
"The nicest I ever drank," said Diana. "It's ever so much nicer than Mrs. Lynde's, although she brags of hers so much. It doesn't taste a bit like hers."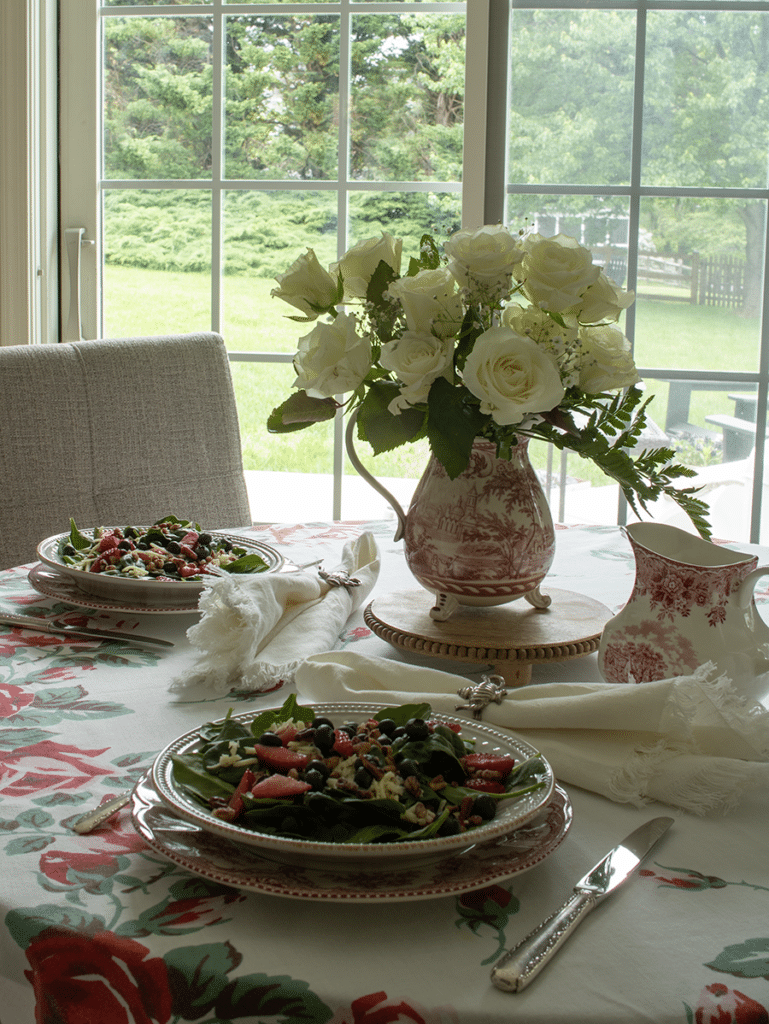 A family favorite raspberry recipe
When thinking about an Anne-inspired recipe to share, raspberries were on my mind. I have made a strawberry spinach salad with homemade raspberry vinaigrette dressing for years. Family and friends always request it for gatherings. It's especially nice as a salad for Memorial Day or the Fourth of July.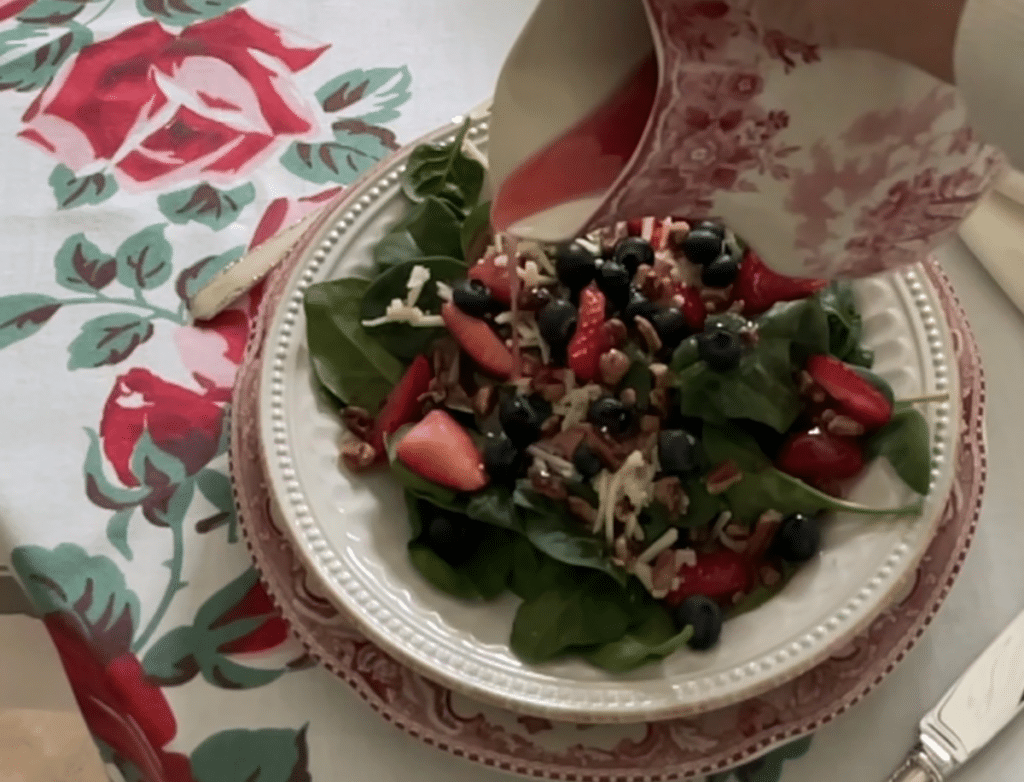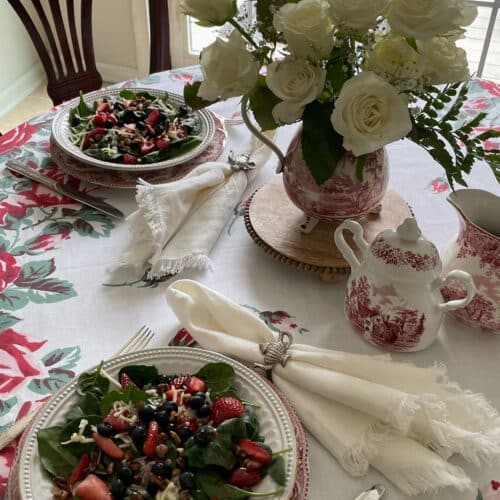 Homemade Raspberry Vinaigrette Dressing
This dressing has a wonderful mix of sweet and tart, and is the perfect topping for a strawberry spinach salad. I add blueberries to the salad and use white cheddar cheese for a red, white and blue salad that is festive for patriotic holidays.
Ingredients
2/3

cup

white vinegar

2

teaspoons

salt

1 1/2

cups

sugar

1

cup

olive oil

2

tablespoons

raspberry jam
Strawberry Spinach Salad
1

bag

fresh spinach

1

cup

strawberries, chopped

1/2

cup

candied pecans

1

cup

shredded cheddar cheese

1

cup

fresh blueberries

optional
Instructions
In a lidded bowl or container, blend vinegar, salt and sugar

Slowly add the oil, stirring constantly

Place lid on container and shake vigorously to blend all ingredients
Notes
I have found that shaking the ingredients in a lidded container is the best way to blend it. The oil will separate as it sits, so serving it in a container that can be shaken works well. 
The dressing can be stored in the refrigerator for several weeks. Allow it to sit out of the refrigerator for several hours, and shake again before serving.
The Virtual Book Club
Visit my blogging buddies at the links, below, to see what fruity confections Anne inspired them to whip up!