This is my mother's recipe, and everyone always says they are the best deviled eggs they have ever had. They are savory and get a spicy kick of flavor from a special ingredient!

Welcome to the Virtual Book Club—Culinary Version.
I join three bloggers during the fourth week of each month to share our interpretation of a different book.
On Thursday, we share a home-decor related post and follow
on Saturday with a culinary post, both inspired by the month's book.
Inspiration from the book, The Help
This month, our virtual book club read The Help by Kathryn Stockett. The book is set in Jackson, MS, in 1963 and focuses on a group of wealthy housewives from prominent white families and the black women who serve as their maids. My decor post featured a 1960s-themed tablescape set for a fundraiser. You can read more about that and see my photos here.
A fundraiser was the scene of one of the chapters in the book. Another chapter took place during a meeting of the bridge club that the wealthy women held monthly. Both events may have had deviled eggs on the menu. They are specifically mentioned in the bridge club scene when it is made clear that the domineering leader of the bridge club, Hilly, does not like paprika on her eggs. My recipe suggests paprika as a garnish, but you can certainly leave it off if someone objects!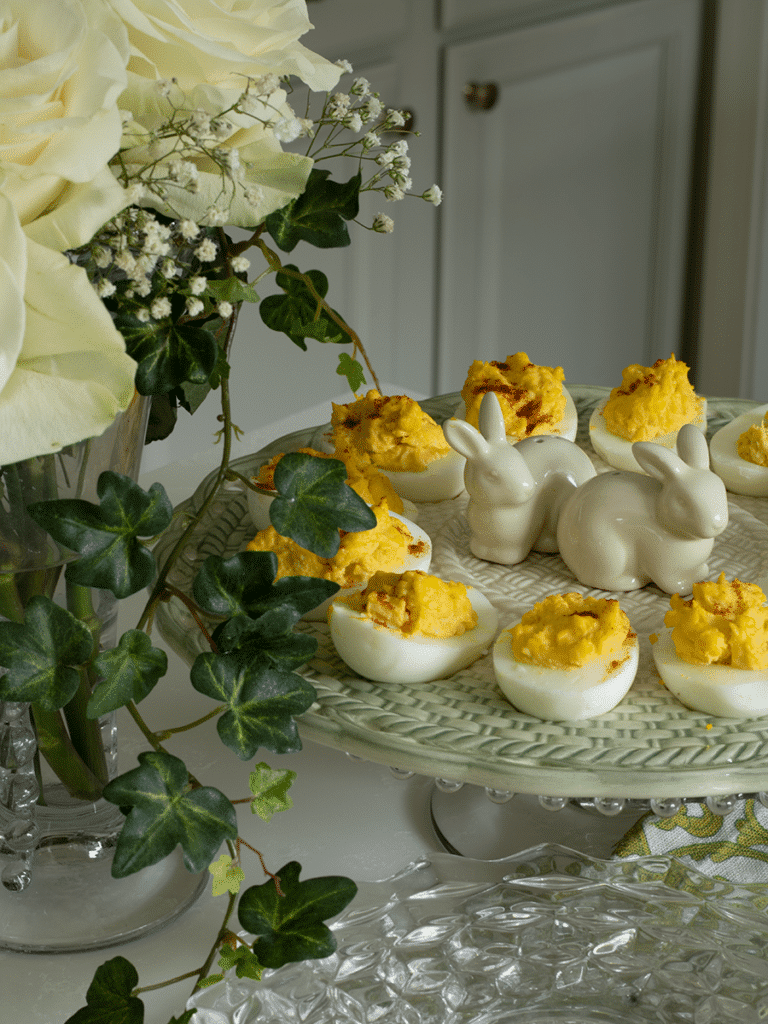 The best deviled eggs!
My mother makes the best deviled eggs. Everyone who has ever had them says so! She makes them whenever she hosts an event and they are the first item on the buffet to go. I have not found another recipe that includes her secret ingredient–horseradish!
The Best Deviled Eggs
These deviled eggs are savory and have a spicy kick from a special ingredient–horseradish
Ingredients
6

large

eggs

hard-boiled

1/4

cup

mayonnaise

2

tablespoon

horseradish

drained

1/4

teaspoon

prepared mustard

1/8

teaspoon

salt

paprika for garnish
Instructions
Place eggs in a large saucepan and bring to a boil. Turn down heat and simmer for 10 minutes.

Place eggs in cold water and cover with ice for 10 minutes.

Carefully peel eggs, slice them in half lengthwise, and separate yolks. Set egg white halves aside.

In an electric mixer, blend egg yolks, mayonnaise, horseradish, mustard and salt.

Spoon egg yolk mixture into egg white halves.

Refrigerate until serving.
The Virtual Book Club
My virtual book club friends have posted recipes inspired by the book. Please visit their blogs to see what they have cooked up!