They say that the sense of smell is most closely linked to emotions and memory. Fall is my favorite season, and the scents of seasonal warm spices elicit fond memories for me.
Some of my favorite memories include: sitting on fresh hay riding through the pumpkin patch to find the perfect prize for carving, visits to the apple orchard, and watching my kids jump in mounds of raked leaves. Fall fragrances conjure thoughts of a crackling fire, brisk walks on colorful leaf-covered trails and home-baked pies cooling on the stove.
Fill your home with fall fragrances
Bringing the scents of the season into your home is one of the best ways to create a cozy fall vibe. As the temperatures turn to sweater weather, it's the perfect time to make your home feel cozy. Lighting a fall scented candle is one of the best ways to infuse an autumn feeling into your home.
Fall-scented candles are popular among candle manufacturers and easy to find this time of year. Scents run the gamut, from pumpkin pie to autumn wreath and even wood-burning fireplace. I burn candles non-stop during the fall. I always have one burning in the kitchen, but I like to add them to my fall decor in the living room, bathroom and bedroom, as well. Not only do they make the house smell good, but they add a cozy fall glow.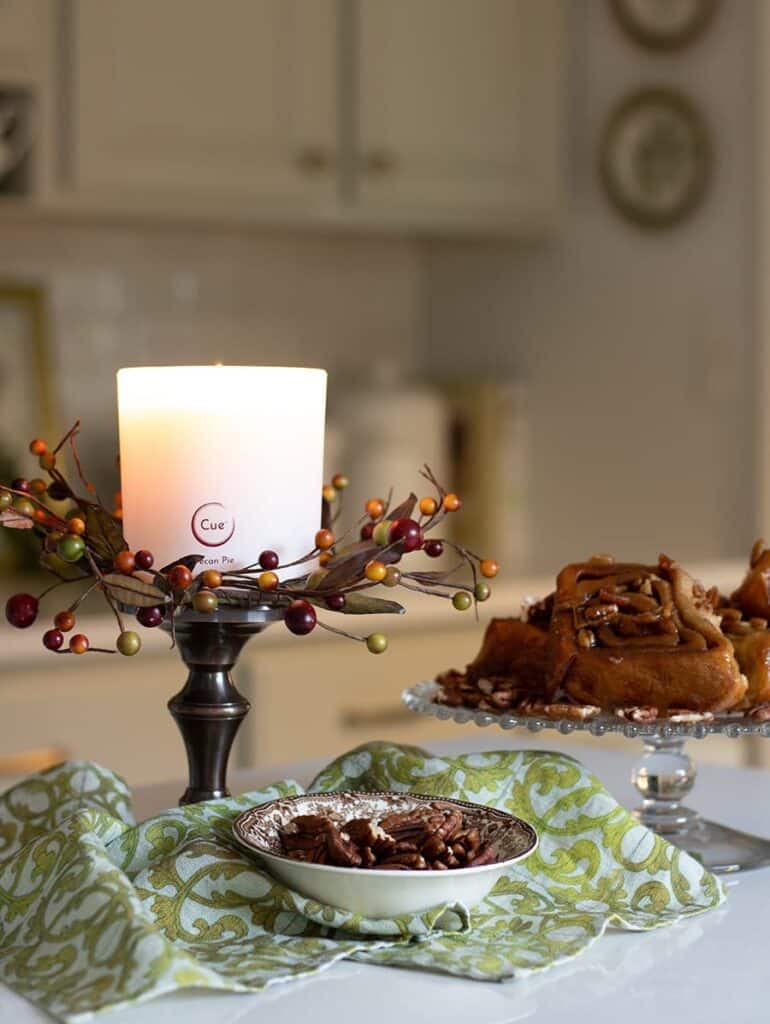 But, scented candles are not always poured in vessels that match your home decor. Placed alone on the island or in the middle of the table makes them feel like a small kitchen utensil rather than a piece of cozy home decor. That's why I enjoy styling fall candles to incorporate them into the decor.
My favorite candles
This is not a sponsored post, but most of my images show The Cue Company Candles. I love everything about these candles. I consider them to be the best candles for a variety of reasons. Besides the wonderful scents, they are clean-burning candles and create less soot. Further, they burn evenly without tunneling, and they have a beautiful double wick that unfolds upon the first lighting. I highly recommend them, but if you have a favorite scented vessel candle, the tips in the post will still apply.
Why you should style your scented vessel candle
While its common to style pillar and taper candles, scented vessel candles are often placed just to make the house smell good. They're treated kind of like a non-electric version of a plug-in air freshener. The glass jar vessel of my favorite candles is beautiful, but the modern design does not necessarily fit my decor aesthetic. If I just plop them down on the counter, they can look out of place. But with a little bit of styling, I think they can fit into any decor. I like to use neutrals, greens and browns for fall. You can see more of my fall decor here. But, if you like more traditional colors, the tips in this post still apply.
Find a base
First, choose a base for your candle. This grounds it and gives it the appearance of being a part of the decor. I use a variety of items as candle bases. Make sure that the item you choose provides a level surface for your candle. Following is a list of items that make perfect scented candle bases:
Wood risers. You can find these in stores or get creative and make them.
Dough bowls. A candle can be centered or placed to one side of an oblong dough bowl. The shape of the bowl allows space for decor embellishments.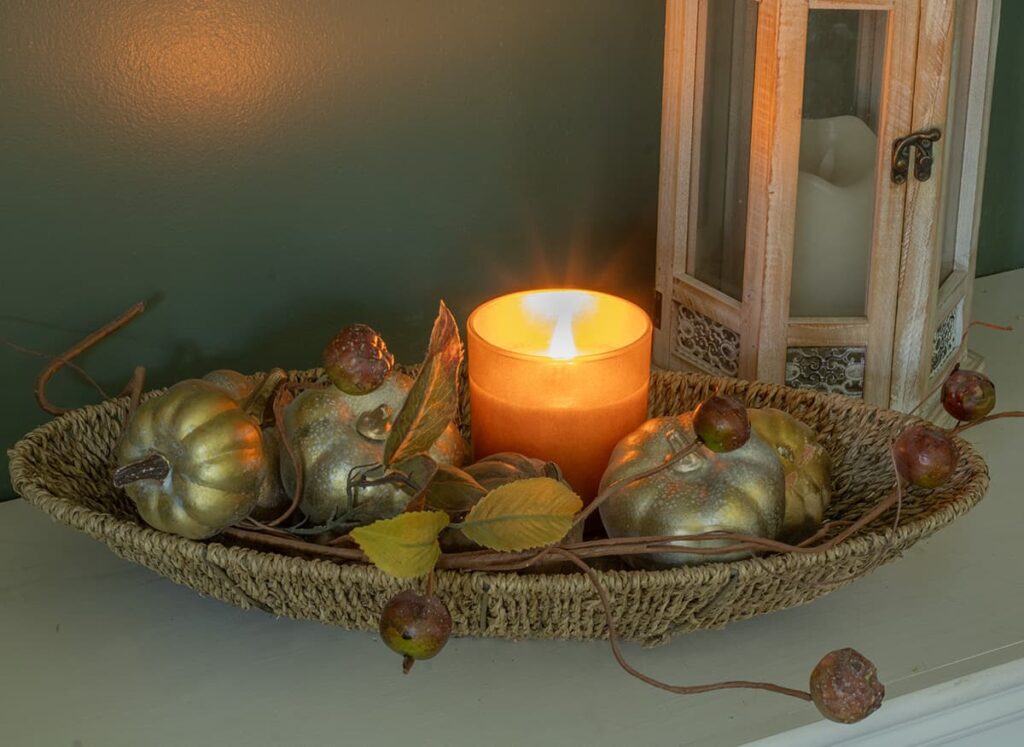 Candy dishes. I look for candy dishes when I'm thrifting. I rarely use them for candy, but with the lid removed, they make great candle bases.
Dishware. Saucers from your favorite set of dishes probably match your decor and make a pretty base. I like to find thrifted dishes. This is a great use for that dish you love, but there is only one of them in the store.
The candle shown in the photo (at right) is on a vintage dish, which serves as a base, and is surrounded by a fall wreath.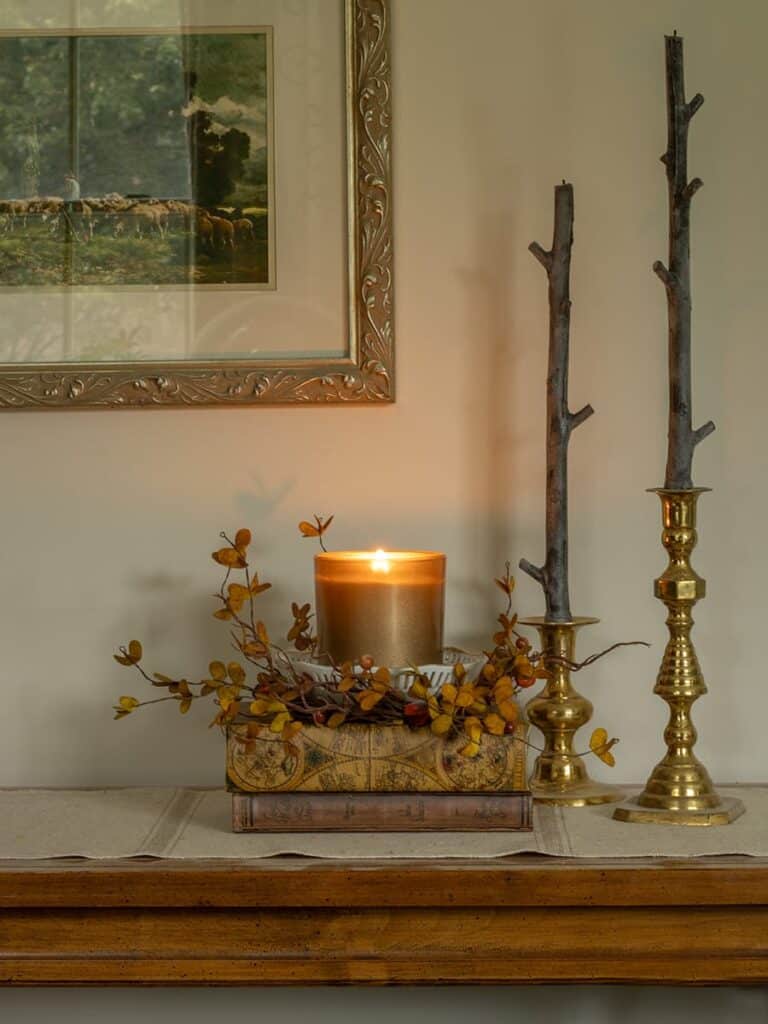 Candle sticks. A candle stick that is made for a pillar candle is the perfect size for a scented vessel candle. I like to use shorter candle sticks for this purpose. Five to 10 inches is best.
Books. I use books as a base for many decor items. They are versatile and make a great candle base.
Ash trays. We have never needed an ashtray for it's intended use, but they make unique candle bases. If you like mid-century modern decor, this is an excellent option if you enjoy thrifting.
Shallow bowls. Use bowls with sides that are two to three inches high. The extra space in the bowl can hold vase filler or seasonal stems, but we'll get into that later.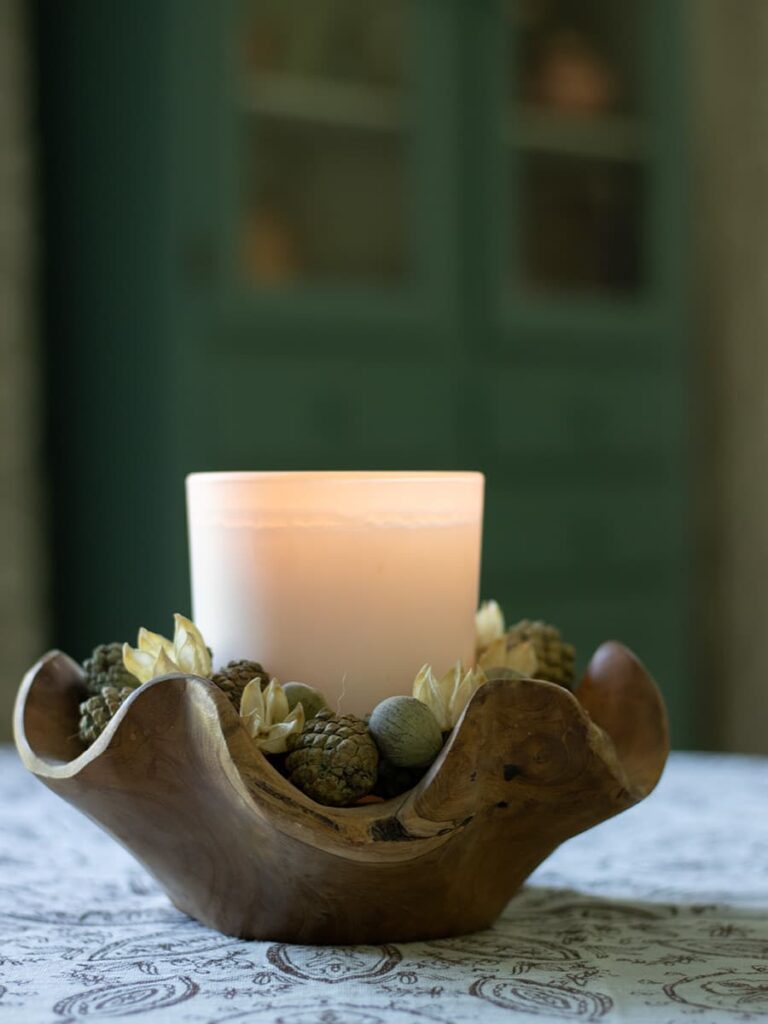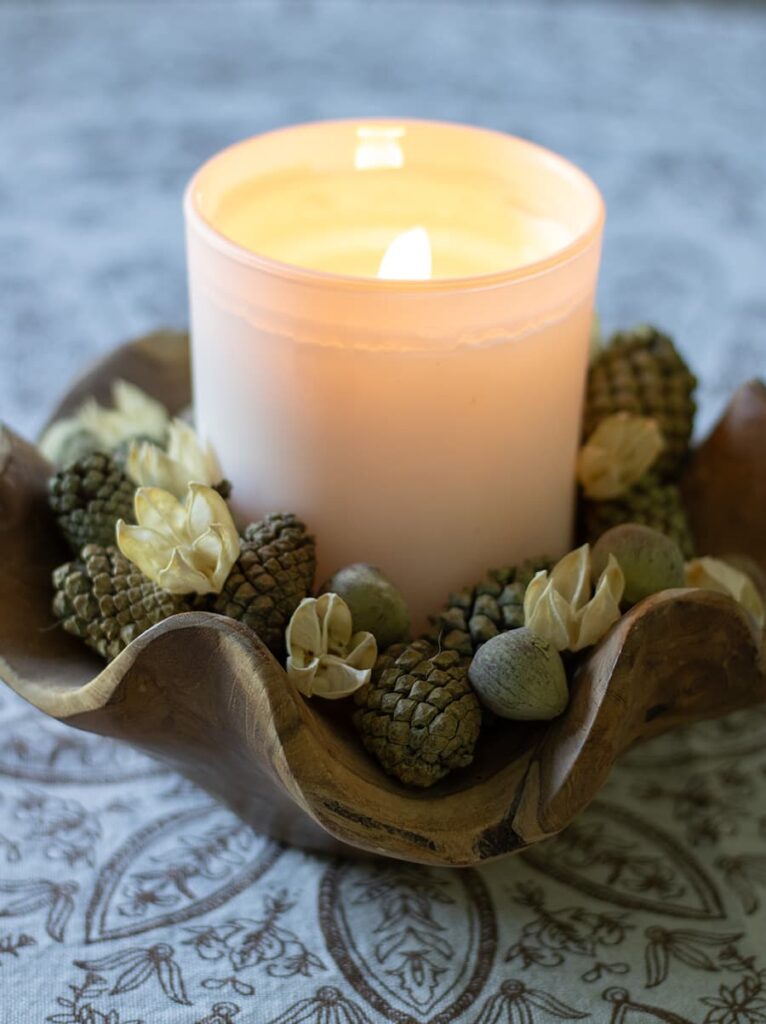 Wine coasters. I happened upon a marble wine coaster for $6 at Dollar General (you can see it in the photos, below). I've seen similar ones in high-end stores for $30 and up. If you happen to have a marble wine coaster, think about using it as a candle base. Wine coasters are also available in metal and ceramic, and they are usually the perfect size for a vessel candle.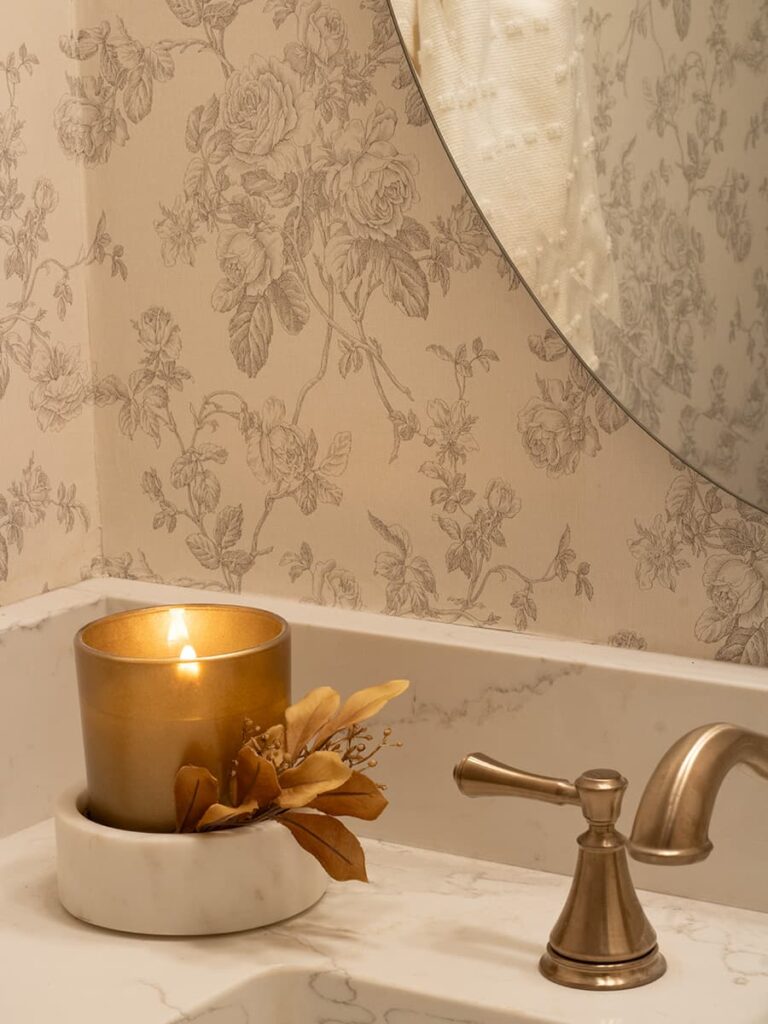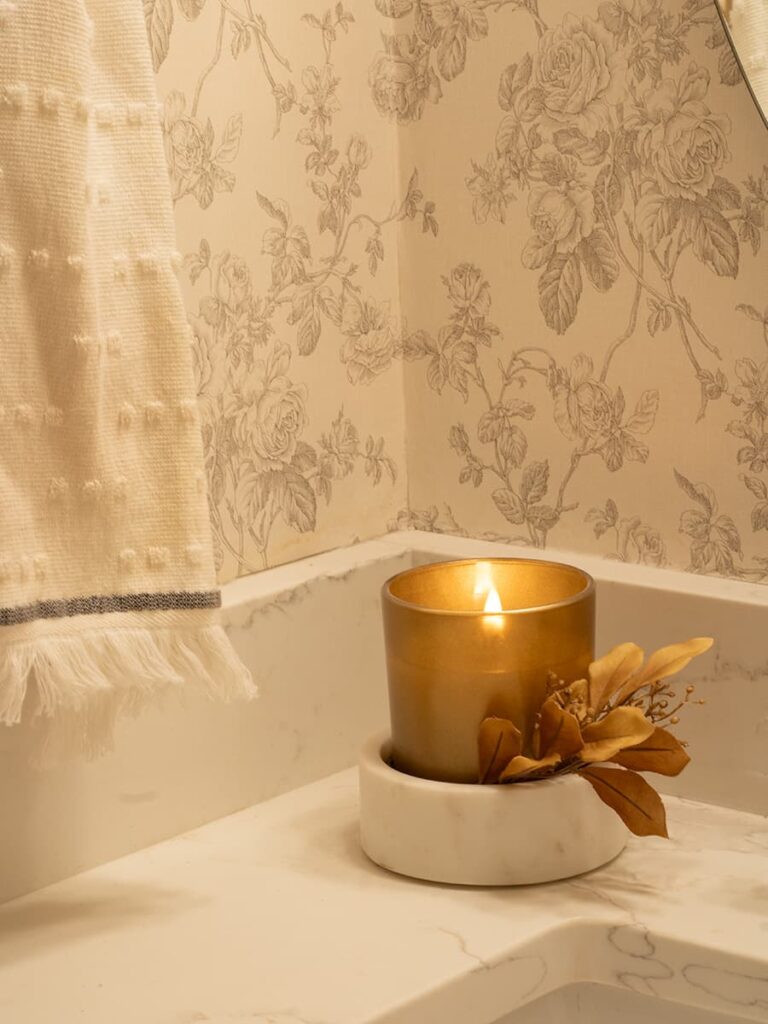 Choose embelishments
Next, up your candle's style by adding some embellishments. A base may be enough in some spots, but I like to elevate my candle styling with some natural items that tie it even more into the decor. Different items work in other seasons, but since we're focused on fall, I'll stick to options that work well for this cozy season. As a plus, some of these ideas work into the Christmas season.
Fall stems and wreaths. Twisting fall stems around your candle softens its appearance. A small wreath in the right size is an easy addition.
Foraged items. Natural elements, such as pine cones, acorns, fall branches and sticks, make beautiful decor.
In the photo (at right), faux thistle branches are woven into sticks from the yard. The candle and embellishments are resting on a pottery dish, and the entire vignette has been placed on two books in complementary colors.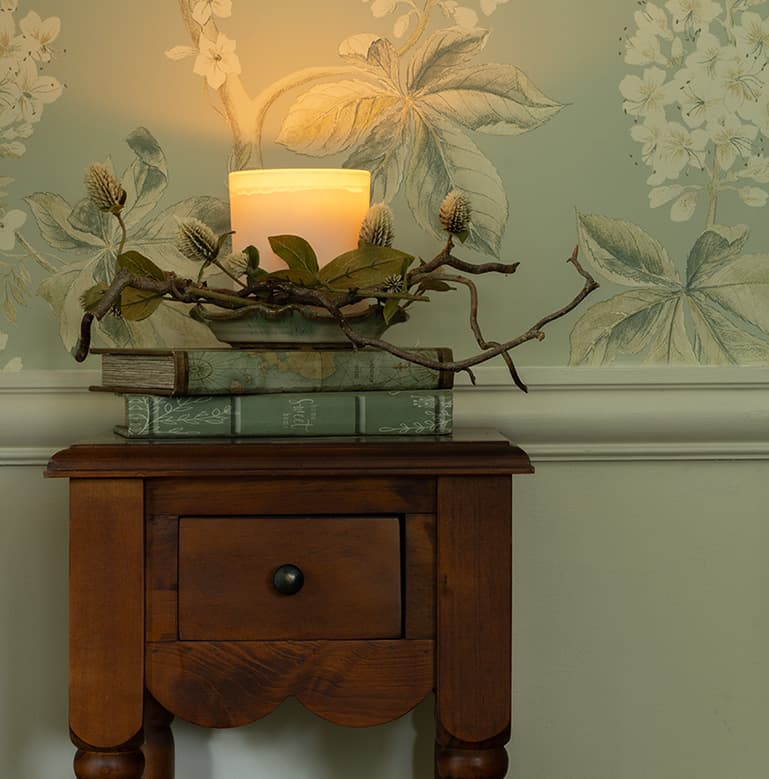 Small faux pumpkins. What screams fall louder than pumpkins!
Pretty tea towels. Cover a base with a tea towel in fall colors and nestle you candle in the folds of the towel.
Assemble your candle vignette
Finally, put your candle display together. Now that you have a base and an embellishment, take some time to assemble everything for a beautiful candle vignette. Here are some tips that I've found helpful:
When placing your candle on a candlestick, use a small piece of Alien Tape or a Command Strip to hold it in place.
If your candle sits too low and is covered by the embellishment that you've chosen, raise it up a bit. I've used the lid to the candle (if it came with a lid), drink coasters (you can use one or more to achieve the right height), small boxes (cover them in a wrapping paper that matches your decor to make them disappear).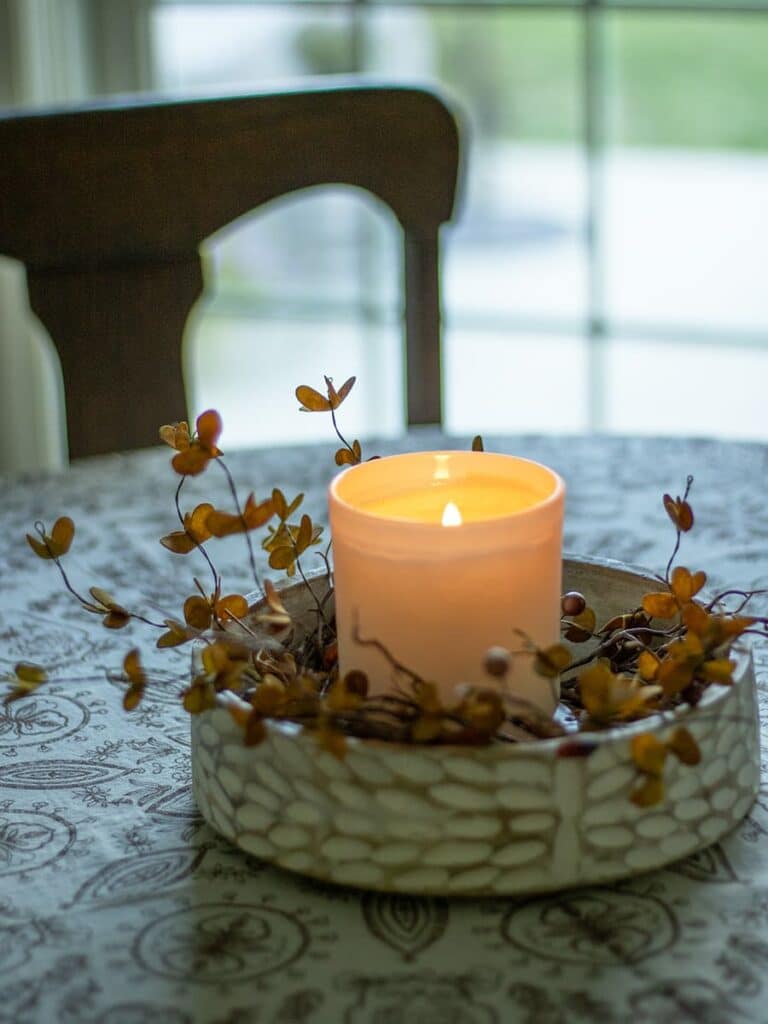 In this photo, the carved bowl was a little deep for the candle. I used two drink coasters to raise it to the perfect height. A pretty fall wreath makes this a simple fall centerpiece. You can find this bowl here.
Allow filler (pine cones, acorns, pumpkins) to spill over your riser onto the counter or other surface where you're creating the vignette.
If pairing two candles, vary the heights.
Where to style scented candles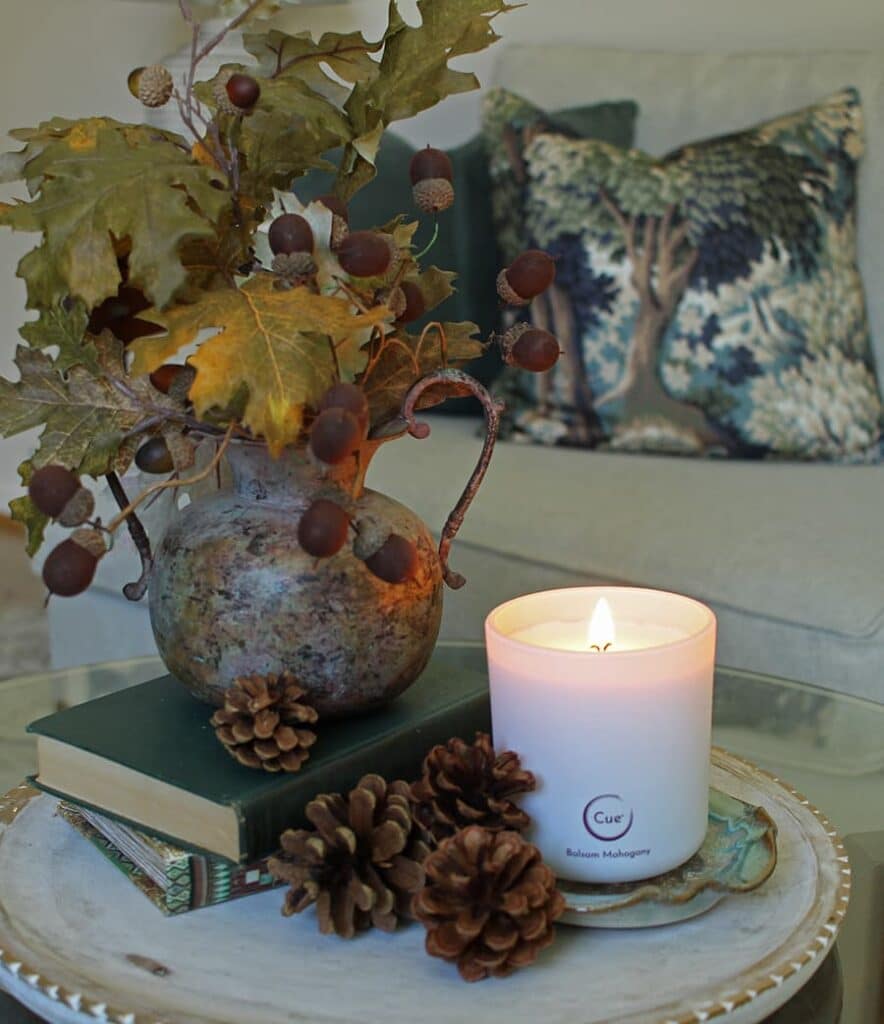 In the photo (at left), my coffee table decor features a fall scented candle styled with pine cones on a pottery dish. The entire candle vignette is corralled on a wooden tray.
I always have a candle vignette on my kitchen island. First, because I spend a lot of time in the kitchen. Second, I'm not a baker, but I love when my house smells like I am. Ha! When we have company, I create a candle vignette in the powder room. Guests always remark on how good the bathroom smells. I like to use scented vessel candles on the coffee tables in our family room and living room, especially when we have company. I love the cozy atmosphere created by candles, but tapers or pillars are more likely to be knocked over when placed on a low coffee table.
Elevate your gift
If you need a hostess gift for a fall gathering, consider a candle. You can elevate your gift by including everything that is needed for a cozy fall candle vignette. Combine a pumpkin spice candle with a bag of mini pumpkins and a pretty wood riser.
An autumn wreath scented candle would be perfectly paired with a small bowl and a pretty bag filled pine cones and faux fall leaves.
Choose your favorite fall candle and add a pretty candle stick and a wreath of fall berries.
Enjoy the season
I hope these tips help you to fill your house with your favorite fall scent while adding to the cozy decor!
Click on the photos, below, for links to bases similar to mine.